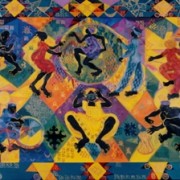 Host Dmae Roberts highlights the  Walls of Heritage, Walls of Pride: African American Murals about to open at the Oregon Historical Society. Find out about the long and often overlooked history of African American murals. And in the latter part of the show, Producer Tali Singer has an audio arts piece of a young woman converting to Islam.
Hear about the long tradition of African American muralists on Stage and Studio today. The Walls of Heritage exhibit runs November 16, 2010 through February 13, 2011.
Dmae talks with two Portland muralists Arvie Smith and Adrienne Cruz as well as Robin Dunitz, mural historian and co-author of the "Walls of Heritage" book with James Prigoff.  Duntiz  co-curated this national touring exhibit. Marsha Matthews, OHS Director of Public Programs also talks about new changes at OHS.
You can hear Stage & Studio at the KBOO website or on 90.7FM live at 11am Tuesdays.
Or you can subscribe to the podcast on iTunes so you don't have to miss a show.
Podcast: Play in new window | Download