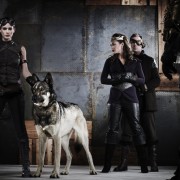 Dmae Roberts explores the growing landscape of the web series via an actor, director and producer working on three different projects. Actor Harold Philips and Director Micki Selvitella, both theatre artists, will tell us what it's like to work on web series in Portland. Then Ryan Copple, co-creator of SyFy.com's Riese: Kingdom Falling will share his experiences working on one of the most successful web series that received 1.2 million streams in two months.
Harold Phillips is a long-time Portland stage and film actor . He  has appeared in several web-based entertainment projects, including Lady Wasteland, Animus Cross, Vicky Vixen, the interactive movie The Outbreak motion comic Y-Me. He's involved with several online projects at various stages of development, including Born Hero currently in production) The Episodic Adventures of Dex Dixon – currently in development) and Vicky Vixen . and the
Micki Selvitella has directed many productions in Portland theatres.When a college friend pitched her an idea for a web series pilot, she was intrigued. Selvitella directed and was head writer of the first episode ofF22.  F22 is an action/suspense sci-fi series that focuses on a young photographer who's been told her parents died in a car crash. Years later, she's given some old footage showing her parents were killed by a shadowy government agency.
Check out the Kickstarter campaign to fund F-22 series.
Ryan Copple is a Vancouver, BC writer, editor and co-creator (with Kaleena Kiff) of the award-winning steam-punk digital series Riese narrated by Sanctuary and Stargate SG1 star Amanda Tapping. The series began as an indie online series and then was picked up for season 2 by the SyFy Channel to run online last fall. The series featured actors from many well-known television series.Riese was so successful that SyFy ordered another indie online web series called Mercury Men.
Podcast: Play in new window | Download
Highlights from the show
- It is now easier than ever before for artists to distribute their work. Anyone can upload videos to sites like YouTube or Vimeo.
- Web series are shot with small screens in mind. But that doesn't mean skimping on quality. Ryan Copple and the rest of the team behind Riese say: "We never wanted to be good enough for the web. We just wanted to be good."
- Artists need to get creative about funding, whether it's through product placement or using a site like kickstarter.com, which allows artists to crowd-fund their projects.
- New media is interactive and multi-platformed. Before Riese was launched, the creators released an alternate-reality game that set up the story.
- One of the best things about the future of the web series: creative freedom. "Don't be afraid to get your story out there," Copple says, "That's the beauty of the web, is you can just tell whatever you want to tell."

And always browse our archive of shows at the official Stage and Studio website