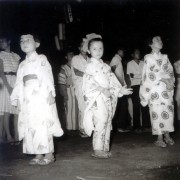 © Dmae Roberts 2011
*Originally published in The Asian Reporter
My earliest and best childhood memories are of Japan. My father was a sergeant in the Air Force, and he met my mom in Taiwan. As a family, we lived in a neighborhood close to Fuchu Air Station, a military base near Tokyo.
I loved Japan. I spoke Japanese fluently and went to school with other multiracial children on the military base.  A black and white photo of my kindergarten class shows 17 kids.  The front row seated, the other standing behind. Girls clad in their best dresses and patent leather shoes.  Boys decked out in their bow ties and cardigan sweaters. Only six of those students are visibly white. The rest are Asian or mixed race. On the back of the photo, my dad wrote "Graduation picture. Kindergarten School, Fuchu Air Station, Japan."
My family rented a small house outside the base in a civilian neighborhood. We had a fluffy white Akita dog I named Snow and a mean white rooster that seemed three feet tall because he always tried to peck at me. I danced in my kimono and red butterfly obi sash at the Sakura, the Cherry Blossom festival.
My brother, Jack, was happy too.  He was a shy, sensitive child, but I often brought him along to hang out with the neighborhood kids. We played tag and ran around the block with Japanese kids and other military "brats" like my brother and me. The kids roamed all over town because it was safe. My mom studied flower arranging and was proud of that certificate when she graduated. I remember peaceful times between my parents, before my dad quit the military and moved us to the States.
Though I've had layovers in Tokyo on my way to Taiwan, I really haven't been back to Japan since that time. I always meant to explore the location of the base and the neighborhood.  Both my parents are now gone so I can't ask them questions about our years in Japan.  But I found a website where people post memories of Fuchu Air Station. Most comments are from adults who lived there either as military personnel or as children during 1957 to 1974, when Fuchu was shut down.  Many were trying to connect with others who considered their time in Japan the happiest in their young years.
Several sites display images of this base, now abandoned, covered in overgrown ivy and surrounded by a barbed wire fence. Judging by these photos taken by visitors who broke into the base, Fuchu has become a location for creepy urban exploration.  It's sad to ponder a place that had so much life once now demolished and in ruins. And it made me wonder how many other people on the West Coast also have memories and immediate ties to Japan.
On March 11, 2011, we witnessed the earthquake, tsunami and ensuing nuclear contamination that devastated Japan.  We saw the horrific images on TV and websites as tech-savvy citizens posted cell phone videos to the world. As these videos kept appearing each day, we realized what happened in Japan could also happen to us here.
Who couldn't empathize and envision with dread what it would be like to have our possessions, homes and entire towns awash in a swirling pile of debris and wreckage? It's almost unimaginable to think what it would be like to escape someplace with the clothes on your back and try to live without food, clean water and shelter
I stayed up late, like so many others, watching videos of the unrelenting water pummeling the landscape, and I felt for the people who were so completely powerless in the wake of overwhelming devastation. I still wonder if my childhood friends, now adults, might have been killed or made homeless by the disaster.
In the last several weeks, community groups responded instantly to raise funds for Japan Disaster Relief. As of this writing, the Oregon Nikkei Legacy Center's executive director Mari Watanabe says about $500,000 has been raised for the Oregon Japan Relief Fund. Nationwide it's been nearly $5 million.
Within days, Portland Taiko pulled together a benefit at Portland State University. Prominent businessman Sho Dozano worked with event producer Stephen Marc Beaudoin of PHAME Academy to organize "From Oregon With Love"–a concert at the Aladdin Theatre featuring many Portland music artists including Pink Martini and pop-singer Saori Yuki who flew in from Japan. That benefit made about $216,000. The Oregon Nikkei Legacy Center turned its first Sakura Festival into a benefit that raised awareness on the Japan Historical Plaza in Waterfront Park downtown Portland. And the benefits continue each day and hopefully will for more weeks to come.
My hope is that people won't forget and continue showing support. The Japanese people are dealing with a horrifying reality that will take many years to recover.  For more info on how you can help.