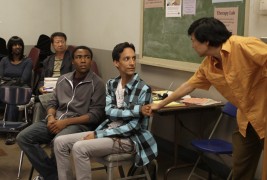 By Dmae Roberts
If you grew up in Oregon, you know what it was like to be the lone Asian (unless you were with family members) in a crowded room, restaurant, grocery store or public event.  It's more unusual now to be the sole Asian in public  in Portland, and I'm surprised when it does happen. But it would seem in the world of TV, Film and even local theatre, the people on the screen or on stage rarely reflect the landscape of America.
Most TV shows will either feature no Asians or the lone Asian. A few rare shows include two Asian actors (Danny Pudi and Ken Jeong) in the cast like the very funny Community on NBC or in the action-packed Hawaii Five-0 CBS.
The original 1960s Hawaii Five-0 also had two Asians out of four cast members. Asians as the lead characters would also have better updated Five-0 and reflected the most multi-racial U.S. state.
Though I enjoy the lush Hawaiian landscapes and the handsome Daniel Dae Kim, I was put off by a recent Hawaii Five-0 episode with a scene in which McGarrett schooled Chin Ho (played by Kim), a Hawaii resident, on how to track someone through a Hawaiian jungle. Dude, you may be a former Navy SEAL but brah' cop has been living on the Islands all his life!  He's never tracked someone through the jungle?
Criticism aside, the roles on Hawaii Five-0 are far superior to the two-dimensional characters on NBC's Outsourced though it features several Asians in lead roles.
Ensemble shows like the much-hailed Lost and recently cancelled Heroes and Stargate Universe all had more than two APA cast members in great roles. I'm amazed Hollywood is still sluggish catching up to the reality of this country's diverse populations. If you could hear the conversation in network back rooms, it could almost sound like:
"We better put some color in one of these roles or we'll get in trouble…"
"What about a couple of Asians?"
"Nah, that's too many. How about one Latino and an African American?"
"Could we have one Asian, one Latino and one African American?"
"We better go with Latino and African American. There aren't as many Asians who watch TV…"
Historically, there's a misconception Asian Americans are passive when it comes to protesting discrimination. One group has been monitoring TV's diversity for a decade now. The Asian Pacific American Media Coalition(APAMC) recently released its annual report card, and 2010 wasn't that hopeful for Asian actors, writer and directors working in TV.
Though Asians aren't as invisible as 10 years ago when APAMC started tracking APA talent on major TV networks, there's only been only a minimal increase in the number of APA cast members to total 37—that's a whopping four more actors than the previous year.  In short, NBC, ABC, CBS and FOX got B's and C's.
NBC's grade showed the most improvement casting APA's in reality shows, which increased from 7 to 23 last year. NBC also showed increases in "development deals," "procurement" and "APA executives." And NBC shows like Heroes and Outsourced were lauded regarding the number of APA cast members.
But according to the report, "the number of APA writers and producers has continued to fall" in all major networks since 2007. That could help explain the slow growth in scripted shows of APA TV casts. The report points out some lost opportunities. ABC's Off The Map is a romantic medical show I like because it's filmed in Hawaii though it's supposed to be South America. The report states an Asian character was originally written for the show but "a non-minority actress was cast instead."
FOX was also singled out for only adding two new Asian regulars in its entire season of shows: the wonderful Indira Varma in Human Target and Lisa Lapira in the mid-season replacement Mixed Signals. The report also commended CBS for going beyond casting agents to secure Asian American actors and acknowledged the brilliant Archie Panjabi in The Good Wife for her Emmy win as Best Supporting Actress in a Drama series last year.
I enjoy watching the Emmys or the Golden Globes until I realize there are usually only one or two APA talent nominated. I thought TV was doing better than film till I looked up the number of APA nominations and wins in the history of the Academy Awards. It's surprisingly longer than I thought.
The upcoming Feb. 27th Academy Awards also features several Asian American nominations: A.R. Rahman, the composer who won for Slumdog Millionaire for 127 Hours, Matthew Libatique for cinematography in Black Swan, Tariq Anwar for editing in The King's Speech, Filmmaker Ruby Yang for her documentary short, The Warriors of Qiugang, Shaun Tan for animated short, The Lost Thing. And Hailee Steinfeld, the young actress in True Grit is mixed race Filipina. That's still a handful but it seems more than the recent TV awards. Sad but true.
The APAMC didn't include the only TV show that has APA actor in the title role because it's on the CW network. Maggie Q as Nikita is a strong multidimensional hero who fights for good every week. Perhaps because she is the lead, there are no other Asians in the supporting cast. But if you're going to be the lone Asian on TV, it's best to be the star, no?
*Originally published in The Asian Reporter in Portland, OR where you can read more of her montly columns.