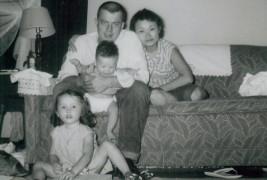 © Dmae Roberts 2011
Daddy passed away in his sleep one afternoon, alone and without causing us any trouble.  He had been sick for a week with one of his frequent colds that turned into bronchitis during which he continued the two pack a day smoking habit he could never kick.
"Alive and kickin'."
That was his motto whenever you asked him about his health, which as an overweight smoker with high blood pressure was not good. I knew the moment he died.  It was 4pm on a sunny day in March of 1981, and I was visiting friends and laughing. I looked at the clock and then at the sunlight streaming through a curtained window. I felt my knees weaken, leaned against the wall and felt dark inside.  That night, my boyfriend and I went to have dinner with my mom.  Daddy was supposed to join us. My parents had divorced two years earlier. Though their relationship was strained at best, he still sometimes joined us for dinner.
When he didn't show up at my mom's house, my boyfriend and I drove to his apartment to find the front door unlocked. I called out…Daddy? My voice echoed hollow in the cold, sparsely furnished living room. We knocked on the neighbor's door but no one was home. Setting a neatly wrapped foil packet of food on his kitchen counter, I wrote a note on the back of a receipt:
Missed you at dinner. Brought you some pizza. Call me
….Love D.
Daddy and I had argued a week before over paying him $300 for a car I thought he had gifted me.  He had a bad cold that was aggravated by his emphysema from smoking. He insisted that I pay him the money and it made me so mad, I hadn't talked to him before the family dinner. When he still hadn't called me back after I left the note for him, I worried. Guilt took over and I couldn't sleep.
Ma phoned me later in the middle of the night. Daddy's neighbor had taken him to the emergency room when he couldn't breathe.
"You daddy dead!" my mom cried out.
Her words hit me in the gut and I bowled over in pain. I wept that night till I was dry and empty. My dad was only 46 years old.
Ma was too grief-stricken to handle the funeral arrangements. At 21 years of age, I picked out my father's burial suit and made sure his glasses fit correctly at the angle he wore them. Inside the casket of blue I chose for him, he looked like he was sleeping atop white silk. I talked a Baptist minister into speaking at his graveside service even though he didn't know my father who had been a regretful Southern Baptist backslider for decades.  It surprised me how many of my father's friends came to the service. Emotionless, I thanked everyone for coming.
After the funeral, I cleaned out Daddy's apartment and got rid of his furniture and appliances.  In his wallet he kept childhood photos of my brother and me and an IOU for $200 from a friend who owned the second-hand store in town.  His bed stand had dozens of cigarette burns next to the ashtray, and the drawer was full of methamphetamine samples he got from his doctor to help him lose the decades long beach ball belly he could never rid. I sifted through odd clues about a man I didn't really know. While cleaning out his bare apartment, it hit me that he had asked me for that $300 because he needed it.  And I hadn't known.
Through the decades since his death, I often wonder what he would have thought of my career and of what I've done with my life. My mom couldn't read and had little formal education. She never understood my radio pieces or my love of theatre. It was all "talky talky" for her. My father inspired my writing and my desire to be on stage when he gave me a used collection of 20th century plays that included "The Glass Menagerie" by Tennessee Williams and "Anna Christie" by Eugene O'Neil.
Daddy understood why I wanted to be an actor and a writer. He attended my plays even though he called it "play acting" and he always complimented my writing when I let him read it. I never knew I wanted to be a writer till I was in sixth grade, and let him read a poem the teacher had assigned with the title "What is Gold?" I remember how easy it was to write some rhyming lines about what gold looked and felt like to me. I compared the color to a flower, coins and sunshine. My father beamed at me, scaring me a little:
"I'm sending that to the newspaper so they can print it!" he declared.
Every Father's Day, I regret the last words spoken between us were in quiet anger. I choose to remember the time he sent me flowers backstage to my first college play. Somehow he knew the theatre phrase for good luck and wrote on a note:
"Break a leg… Love, Daddy…"
*This is an excerpt from Dmae Roberts' memoir "Lady Buddha and the Temple of Ma"  More info at: dmaeroberts.com
*Read more essays in the Dmae Writes section.