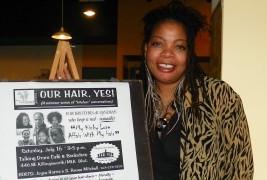 On this week's Stage & Studio, writer/artist S. Renee Mitchell talks about the Natural and Proud People Inspiration project, a celebration of natural African-American hair. Mitchell also runs Twysted Healing Systahs, an organization that empowers women of color. And Dmae remembers Carolyn Holzman, a beloved Portland theatre artist and teacher.
S. Renee Mitchell wears her hair in beautiful, twisted strands. But it wasn't always that way. She used to spend lots of time and money straightening her hair to conform to white ideas of beauty. She's long since ditched the chemicals and has devoted a career to empowering people of color and inspiring self-pride.
In her newest project, Mitchell is trying to spark a conversation about our attitudes about hair and beauty. Mitchell conducted workshops at barber shops and beauty salons and created poetry that she'll read live on Stage & Studio.
It's all part of the Natural and Proud People Inspiration Project. The NAPPI Project explores the relationships between African-Americans and their hair. Through facilitated dialogue, social networking, and art, Mitchell is getting at bigger questions of self-esteem, marginalization, and who determines what is beauty and attractiveness. As part of the 4th annual Peace & Unity Fest, Mitchell presents "Natural Hair, Natural Living" on Saturday, August 27th at 1:30 pm, at Curious Comedy, 5225 NE MLK Jr Blvd.
Later in the show, Dmae Roberts has a remembrance of beloved artist and teacher Carolyn Holzman. You can read Dmae's article about Holzman here.  In her work as a director and choreographer for Portland stages and as an adjunct Professor in the theatre arts department at Portland State University, Carolyn touched many lives and was a vibrant member of Portland's artistic community.
Podcast: Play in new window | Download
You can hear Stage & Studio  live at the KBOO.FM or on 90.7FM live at 11am Tuesdays. And tune into re-broadcasts of Stage & Studio at Portland's Cascade Community Radio at  Radio23.org. Or you can subscribe to the podcast on iTunes so you don't have to miss a show.