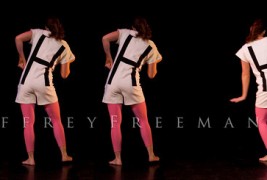 Dmae Roberts visits with Robin Lane, the Founder and Artistic Director of Do Jump! Plus a piece by Erin Leddy. This holiday season, Do Jump! presents their new holiday show, Ahhh HA. Dmae will also feature an audio piece from  Hand2Mouth ensemble member Erin Leddy, highlighting her return to Portland after touring to Seattle and New Orleans with "My Mind Is Like An Open Meadow." The show won five Portland Drammy awards including Outstanding Production of 2010-11.
Podcast: Play in new window | Download
Robin Lane & Do Jump!
For over one-third of a century, Founder and Artistic Director Robin Lane has led the Do Jump! "actorbats" in creating a unique blend of theatre, dance, aerial work, acrobatics, dynamic visuals and live music that defies categorization. Celebrating both individual creativity and community spirit, Do Jump! has thrilled audiences throughout North America.
Robin Lane is the recipient of the RACC Individual Artist Fellowship in Performing Arts 2010. Lane's work is accessible to audiences of all ages — playful, poetic and profoundly humorous, and has toured the United States and Canada for nearly three decades. She has taught generations of children and teachers acro-aerial and ensemble performance through the Do Jump! school and youth company.
Debuting in 2010 as Greatest Hits for the Holidays, Ahhh HA! has been renamed, refined and hand picked to feature in the New Victory's 2012-2013 season programming. Ahhh HA! features audience favorites from over 35-years of Do Jump!'s performance history. This Holiday Show will also feature two new guest artists, Jeff George of BodyVox-2 and Kailee McMurran of SubRosa Dance Collective.
Ahhh HA! runs from November 26 –January 1 @ The Echo Theatre located at 1515 SE 37th Ave in Portland. Ticket prices are: $32.00 Adults/$26.00 Seniors (62 and over)/$20.00 Youth (12 and under). The box office is open Monday-Friday 10am-4pm. Buy tickets online at dojump.org, or for more informations, contact the Box Office at 503-231-1232.
Erin Leddy – "My Mind   is Like an Open Meadow"

For the last 8 years, Erin has been a Company Member of Hand2Mouth Theatre, creating, performing and touring new theatre. In 2001, she lived with her grandmother for a year and recorded her memoirs. These tapes form the bones for this solo performance: a meditation on consciousness, memory and things passed down through generations. "My Mind Is Like An Open Meadow" exists in a strange control station of the mind where stories, songs and dances appear and vanish, conveying the inner life of both Erin and her grandmother.
"My Mind Is like An Open Meadow" is directed by Hand2Mouth Artistic Director Jonathan Walters. Together Walters, Leddy and collaborators Chris Kuhl, Ash Black Bufflo, Holcombe Waller and Jane Paik craft a sonic and visual world where memory overcomes the live performance and the two realms begin to blur into an elegant mixture of lighting, pre‐recorded voice, music, dance and scenery.
"My Mind Is like An Open Meadow" runs from December 1 – 11: Thursday – Sunday at 8pm and December 10 and 11 at 2pm at Ethos at IFCC/5340 N Interstate Ave. Tickets are  $12-18. Find more information at: hand2mouththeatre.org
You can hear Stage & Studio  live at the KBOO.FM or on 90.7FM live at 11am Tuesdays.
And tune into re-broadcasts of Stage & Studio at Portland's Cascade Community Radio at  Radio23.org.Or you can subscribe to the podcast on iTunes so you don't have to miss a show
And always browse our archive of shows at the official Stage and Studio website.