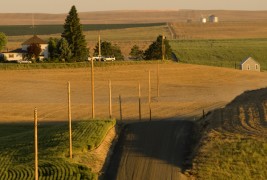 Filmmakers Sue Arbuthnot and Richard Wilhelm of Hare In The Gate Productions talk about their film Amber Waves & Checkered Flags.
Podcast: Play in new window | Download
One day the filmmakers drove by a sign for Lind, pop. 500, with a rustic sign inviting, "Welcome to Lind! Drop in—Mt. St. Helens did!" They found there the annual Lind Combine Demolition Derby.  IN June 2003, they started working on their documentary Amber Waves & Checkered Flag to film the Derby. This extreme sport's purpose is to bolster a struggling town and a multi-generational way of life. They decided to follow two young men—Josh Knodel and Matt Miller—who aspired to win the derby and to carry on the family traditions of producing abundant wheat and supporting their community.
About the Film:
For eight years, Amber Waves & Checkered Flags follows two childhood best friends,whose quest to win an offbeat, hilarious, extreme sport parallels the struggle for existence facing family farms and rural towns.
June—Eastern Washington's austerely beautiful farmland—Josh Knodel, 18, eagerly awaits his first chance to compete in Lind's annual Combine Demolition Derby. Josh and Matt Miller, 17, prepare JAWS, a hulking, out-of-retirement 6602 John Deere combine, for battle. Josh doesn't know that his biggest fight—his bid to carry on the three-generation family farm—will put him to an even tougher test.
Small farms require fewer workers than in Josh's grandpa's time. To survive, small farms must increase production to support the next generation. When the Knodels fail to locate new land, Josh's dream vanishes, and he must leave the farm. Luckily, the Knodels acquire new acreage, and Josh returns.
Today, Josh and Matt work to sustain family farms and their community. With JAWS once again ready for a metal-gnashing go-round, it's derby time.
About the Filmmakers:
Sue Arbuthnot is an independent filmmaker whose films span themes of social change through community building and sustainability, diversity, historic and cultural preservation. She has begun exploring a series of narrative non-fiction works around the relationships between neurology, illness, and behavior. She received the 1990 Pacific Pioneer Fund grant and a 2010 Oregon Arts Commission's Media Arts Fellowship. She began teaching film and video at the Northwest Film Center's Young Filmmaker Program in 1995. Since 2008, Sue has been teaching in the NWFC's Adult Certificate Program. She has taught and mentored students at the Confederated Tribes of the Umatilla Indian Reservation Burns Paiute Reservation, Spokane Indian Reservation, and Yakama Nation. She was recently elected to the Board of Directors of Portland's Women in Film.
Richard Wilhelm draws from his life-long work in photography, art, design, and education to inspire and challenge his work in film. He earned his BFA in visual design and photography from the University of Oregon, and established a design studio in Seattle, which he directed for 14 years, until partnering with Sue Arbuthnot at Hare in the Gate Productions in 1999. Together they've produced dozens of films, from 60-second pieces to feature documentaries. Since 2006, Richard has developed and installed permanent, multimedia interpretive exhibits. Richard has taught photography and graphic design at the university level including more than 50 photography workshops exploring relationships between people and environments.
You can hear Stage & Studio on: