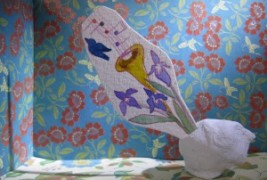 Healing through art with Well Arts Institute, an 11-year-old nonprofit theatre that focuses on people with physical or mental illness and pairs them with actors to perform their stories. Dmae Roberts talks to Katy Liljeholm, artistic director of Well Arts  and actor Kristin Olson-Huddle about their 'Beautiful Minds' project. In the latter part of the show some Writers Read poetry on the theme of time and distance in honor of National Poetry Month. Airs again  Saturday 4/21 at 11am on KZME 101.7 FM.
Well Arts has projects telling the stories of elders in Voices of Our Elders (with Hollywood Senior Center and Friendly House) , veterans in Soldier's Heart (with Portland Vet Center), nurses in Nurses' Story Project, and a yearly  writing workshop with former participants called Returning Heroes.
Podcast: Play in new window | Download
We hear about Well Arts' current 'Beautiful Minds' project with the National Alliance on Mental Illness (NAMI) Washington County Center to perform stories written about mental illness written by people living with mental illness in a production titled What's Important is the Story. 
Performances:
April 20- 7:30pm at Village Baptist Church 330 Murray Blvd Beaverton
April 21- 2pm at Hillsboro Artists' Regional Theatre 185 SE Washington Hillsboro.
April 27-7:30pm at Southminster Presbyterian Church 12250 SW Denney Rd Beaverton.
April 28 -2pm at Serendipity Playhouse 500 Washington Street Vancouver, Washington.
Tickets are $8 online at wellarts.org  or call 503-459-4500. Tickets are $10 at the door.
__________________________________________________
And in latter part of the show, some thoughts and poetry on the theme of time and distance with writers Laurence Overmire and Terri Lojacano share their poems for our Writer's Read segment. We'll also hear Dmae's sound poem about Time.
Laurence Overmire is the author of three books of poetry, Honor and Remembrance, Report From X-Star 10, and Gone Hollywood. 
Hear more of Laurence Overmire's work in our Writer's Read series. 
Terri Lojacano has been writing poetry since she was in Jr. High school.   She has written a fictional manuscript that has many of her poems in it including this one called "the vows of your name."
Submit your own Writers Read at StageNStudio @ aol.com. Read more details here.
Featured music: Michael Hoppe's CD Nostalgie and Mike Langlie  of Twink.
You can hear Stage & Studio on: