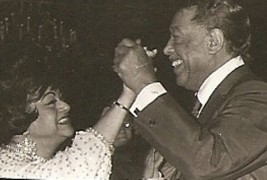 With three books and a new musical called Gracie, Triangle Productions' Don Horn is making sure that Gracie Hansen won't be forgotten. Best known as the "Queen" of the '62 Seattle World's Fair, Hansen ran the Roaring 20's Room in Portland for five years, before taking a stab at running for governor of Oregon.  We'll talk with Horn and Julianna Jaffe who's portraying Gracie Hansen. And in the latter part of the show we hear a sound piece from artist Linda Hutchins who's opening a new artshow performance at the Portland Institute of Contemporary Art.  Airs Sat 11am 4/28 on KZME 107.1 FM.
Podcast: Play in new window | Download
At the age of 40, Gracie Hansen became the "Queen" of the '62 Seattle World's Fair. She set out to "save the Fair (to which it was billed as the Science Fair) from science." She went on to run a 500 seat Las Vegas style show room in Portland Oregon for five years before turning her attention on the governorship of the State of Oregon.
The musical GRACIE is an unusual story about a bored housewife in 1953 who helps a local PTA to raise money to buy playground equipment and begins a local "follies" type stage show. It ran for five years and was shut down because of  "some nudity on stage" caused by some local loggers.
Gracie Hansen then opened a pavilion at the '62 World's Fair after raising $90,000 (that's $630,000 in today's dollars). After the fair closed, Hansen came to Portland to run the Roaring 20's Room at the Hoyt Hotel for seven years.
In 1970 she became the first woman to run for Governor of Oregon. She came in third out of the eight candidates. Horn says that was the year Tom McCall won and Robert Straub came in second.
Julianna Jaffe plays Gracie Hansen; with a chorus of eight dancers and five band members. With book by: Donnie (Donald Horn) and  music by various.  composers.
Performances are May 3rd -May 27th Thursday, Friday, Saturday @ 7:30; Sunday @ 2 pm (no show May 6). Tickets: $15.00-$35.00 Call: 503-239-5919 or go to www.tripro.org to order. Triangle Productions is located  at The Sanctuary located at Sandy Plaza 1785 NE Sandy Blvd.
_________________________________________________
And in the last part of the show, we hear a sound piece from artist Linda Hutchins who is appearing with three other artists in Low Lives, an international festival of live performance-based works transmitted online and in real time at multiple venues in the U.S. and around the world.
Linda Hutchins will combine drawing and percussion in White Out , a performance that weaves repeated strokes of silver from ten thimble-clad finger into a rhythmic pattern on the walls. Immediately following the performance, Hutchins will re-paint the wall, erasing all traces of the work. Hutchins is a Portland-based artist with a background in textiles and computer engineering. She was awarded the Juror's Prize for her wall drawing in the Tacoma Art Museum's 2009 Northwest Biennial and has received national press coverage from American Craft, Fiberarts and Art in America. She is represented by Pulliam Gallery in Portland.
Low Lives presents works that critically investigate, challenge, and extend the potential of performance practice through live online broadcasting networks. This year, PICA contributes three live, five-minute projects in a two-day festival with Austin Adkins, Linda Hutchins, and Robert Tyree.
Performances are April 27, 5:30–8:30pm and April 28, 1:00–3:00 pm at PICA, 415 SW 10th Ave, Suite 300 in Portland.
Visit http://www.lowlives.net/ for details on the streaming link.
________________________________________________
You can hear Stage & Studio on: