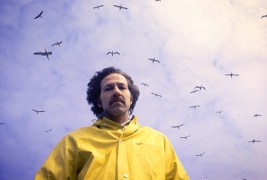 Screenwriter and director Alan Greenberg is featured. He's written a new memoir titled Every Night the Trees Disappear: Werner Herzog and the Making of 'Heart of Glass' about his collaboration with Wernor Herzog.
Heart of Glass,Herzog's 1976 film has been described as one of the strangest narrative films in history in which Herzog hypnotized all the actors. The film has also been hailed as an early Herzog masterpiece. Without a doubt the filming was an adventure and challenged the way many films have been done since.
Podcast: Play in new window | Download
Set in 18th century Bavaria in a glass blowing factory, the film features breathtaking landscapes and actors who appear to moving and talking in a trance-like state.
Greenberg, a journalist at the time, was 26 when he was invited to work with Herzog on Heart of Glass. He travelled throughout Europe with Herzog scouting locations and taking part in the filming, oftentimes in great physical danger.
More than 30 years later, Greenberg intercuts personal narrative with pages from the screenplay to make a fascinating look into the creative process of a young genius called Wernor Herzog.
Greenberg talks about Every Night the Trees Disappear but also shares his journey as a screenwriter who has worked on screenplays including Martin Scorsese's Cape Fear and Bernardo Bertolucci's 1900.
We also find out about Greenberg's newest published screenplay, Love in Vain, about the blues artist Robert Johnson that's being made into a film after 30 years. Join us for this engaging talk with a master writer!
Featured film music is from 'Heart of Glass' by Herzog's composer, Popol Vuh.
____________________________________________________________________________
Reviews of Greenberg's book:
Metro Pulse
 is available 
here
Get a copy of the book! Published by Chicago Review Press (2012).
You can hear Stage & Studio on: