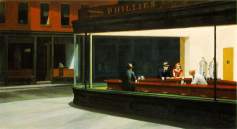 Dmae Robertsfor PUSH LEG presents Nighthawks, inspired by the works of Edward Hopper. Founders of PUSH LEG, Camille Cettina and Anne Sorce talk about their physical theatre based company and how they were inspired by this single painting for their original production.  Plus we talk with Samantha Van de Merwe, artistic director of Shaking The Tree Theatre about Far Away, a dystopian play by Caryl Churchill.  (Re-broadcast on  Sat 8/25 at 11amon KZME 107.1 FM)
Podcast: Play in new window | Download
Nighthawks is the workshop production of an original performance piece inspired by the works of Edward Hopper August 26 & 27 – Two Nights Only!  7:30pm at the Portland Actors' Conservatory located at 1436 SW Montgomery Street in Portland, OR 97201.
Tickets: $5-10 sliding scale, tickets at the door (cash or check only)
For reservations email: pushleg@gmail.com
For more information go to www.pushleg.com
About NIGHTHAWKS
The kinetic vitality of invention and imagination of a physical-theater based ensemble
collides with Edward Hopper's world of small-town Americana longing and solitude to
create a landscape teaming with life, longing, and the American Dream. Nighthawks
paints a picture both intimate and epic, as characters dare to reach beyond the confines
of their every day.
THE ENSEMBLE: Catherine Egan, Keyon Gaskin, Darren McCarthy, Ben Plont, Anne Sorce & Camille Cettina, assistant directed by Sascha Blocker and designed in collaboration with Jenny Ampersand (costumes) and Bill Tripp (set).
ABOUT PUSH LEG:
Push Leg is helmed performer/creators Camille Cettina and Anne Sorce. As a team. Camille and Anne have over 20 years of professional experience as performers, creators of new work, and producers. They trained, respectively, with renowned theater artists at the London International School of Performing Arts and the Ecole Jacques Lecoq in Paris.
________________________________________________________________________________
Far Away by Caryl Churchill Directed by Samantha Van Der Merwe
 Performance Dates: Friday August 31st at 7pm and run-in Thursday through Sunday Evenings  at 7pm through Saturday September 22nd at 7pm.
Venue:
Shaking The Tree Theatre & Studio
1407 SE Stark St
Box Office 503.235.0635
Info and Tickets online: www.shaking-the-tree.com
Ticket Prices
$25/ $20 Seniors & Students (Press: Complimentary with reservation)
Running Time: 1 Hour
Caryl Churchill is generally regarded with something close to awe in the London theater world for her passion, curiosity, rigor, openness to collaboration and for being, as the critic Charles Spencer wrote in The Daily Telegraph, "the least predictable of contemporary playwrights." Her elusiveness can be maddening for those trying to understand her plays, which are elliptical, provocative, shocking and increasingly pared-down; they seem to cry out for a cool authorial voice to help answer the questions they raise. But by the same token, it adds to her mystique and forces audiences, so often spoon-fed with official interpretations, to take some initiative.
 You can hear Stage & Studio on: