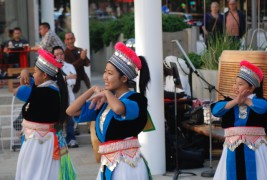 A Making Change special featuring Portland's Street Roots newspaper and Colored Pencils  who are working toward social and cultural change through literary and artistic ways. We'll also hear about  a Corvallis man who drew international attention for outdoor mural. Join Dmae Roberts for a half-hour of inspirational stories about people working toward Making Change in their communities.
Podcast: Play in new window | Download
Up first, producer Tali Singer brings us a feature story about Street Roots, a nonprofit newspaper addressing homelessness and poverty in Portland.
The paper gives opportunities to the unhoused community to write as we well as work as as vendors, preventing homelessness for more than 250 people each year.
Street Roots' mission is to be a catalyst for individual and social change. We'll go out with vendors as they sell the paper  on street corners and we'll hear from Israel Bayer, the executive director of Street Roots.
Then we'll hear a piece from producer Sarika Mehta in her first piece for Stage & Studio. It's about Colored Pencils, a grassroots arts group created by Polo Catalani and Nim Xuto.
Colored Pencils started off as small community events featuring immigrant artists and has grown to be a leader in promoting tolerance, understanding and cultural diversity in Portland through events that draw 100 or more people each month.
We'll experience once recent event in downtown Portland's Director Park and hear from the founders about their efforts to promote diversity.
Mehta also interviewed urban studies scholar Caleb Rosado who talks about the importance of an organization like Colored Pencils and what has made Oregon historically a mostly white state.
And finally, Dmae Roberts reports on an outdoor mural in Corvallis, Oregon that drew international attention in the usually quiet college town of about 55,000 people.
Recently, Corvallis' city government found itself explaining democracy and freedom of speech to Chinese government officials who found the 10 x 100 foot mural disturbing.
On the right side are pastoral scenes of Taiwan. Nearby lanterns float to the sky with messages of independence written in Chinese.  On the left side of the mural, a graphic image of self-immolation by Tibetan monks.
The mural was commissioned by David Lin, a Taiwanese-American businessman who wanted to show his concern for Tibet and Taiwan indendence.  But Chinese diplomats complained and flew to Corvallis to get Mayor Julie Manning to remove the mural.
Hear the feature story that aired on PRI's The World. And check out the photos of the mural below.
'Making Change' is a year-long series funded by the Regional Arts and Culture Council and individual donors including June Arima & John Schumann Fund of the Equity Foundation.
'
Making Change' is a series about the intersection of creativity and social change. These features and specials have been airing throughout the year. Find out how you can support 'Making Change.'
You can hear Stage & Studio on: