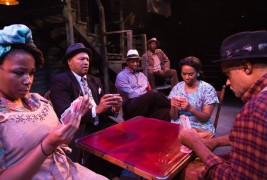 From blues to rock to opera… We explore August Wilson, Andrew Jackson & Don Giovanni today with  Artists Repertory Theatre's Seven Guitars by August Wilson, Portland Playhouse's Bloody, Bloody Andrew Jackson. We'll also hear about  Mozart's Don Giovanni at Portland Opera. (Encores Sat 11am 10/20 on KZME 107.1 FM)
(Left photo: Ramona Lisa, Alexander, Lance McQueen, Michael J. Asberry, Victor Mack, Gayle Samuels, Mujahid Abdul-Rashid. Photo Owen Carey.)
Up first, Dmae Roberts talks with director Kevin Jones from August Wilson's Seven Guitars at Artists Repertory Theatre's 30th season. The play focuses on seven African-American characters in 1948. Seven Guitars begins and ends after the funeral of one of the main characters, showing events leading to the funeral in flashbacks. Seven Guitars covers 1940s as part of Wilson's Pittsburgh Cycle plays in a decade-by-decade anthology of African-American life during the twentieth century. Jones is also the co-creator of the August Wilson Red Door Project. We'll learn more about this effort to bring positive change in Portland's racial ecology.
Seven Guitars runs through November 11 on the Morrison Stage, 1515 SW Morrison, Portland. Tickets are $25-$50; Students $20. For more info and reservations, 503.241.1278 or visit www.artistsrep.org
Then Dmae talks with Brian Weaver, artistic director of Portland Playhouse about Bloody, Bloody Andrew Jackson
and another  installment of August Wilson's cycle plays which revisits the stories of some of these characters in 
King Hedley II,
set in the 1980s.
Bloody, Bloody Andrew Jackson is a political emo-musical fiercely tackling territorial expansion and Jackson's genocidal policies of Native American removal from homelands leading to a forced 1000-mile march across America called the Trail of Tears. The show runs  through Nov. 11 at Portland Playhouse located at 602 NE Prescott in Portland. For reservations and more info, call 503-488-5822.
We'll also hear about August Wilson's King Hedley II starring acclaimed Oregon Shakespeare Festival actor Peter Macon. King Hedley II, set in the mid-1980s in a Pittsburgh plagued by desperation, blight, and drive-by shootings, tells the story of a man and his community struggling to reconcile with the past and build for the future.
And in the final portion of the show, we'll learn about Mozart's most powerful opera, Don Giovanni at Portland Opera.  Don Giovanniopens November 2 at Keller Auditorium with additional performances November 4 pm, 8, 10, 2012.  Tickets begin at $25.
The hero of Mozart and Da Ponte's Don Giovanni has shocked, outraged and fascinated audiences since his first sighting in Prague a couple hundred years ago. Suave and maniacal, he is a seducer and murderer who answers to nothing but his drives and desires.
Portland Opera's production, originally created for New York City Opera in 2009 by Christopher Alden, was praised by The New York Timesas "dark, erotic and vividly theatrical . . . striking, insightful."  Alden will restage his popular work here, unearthing the heart of this timeless, disturbing tale in a new production at Portland Opera.
Dmae talks with two young opera artists, Matthew Grill and Lindsay Ohse who also sings a little live! These two artists are understudying crucial roles and have interesting insight as they observe and study rehearsals each day.
You can hear Stage & Studio on:
Podcast: Play in new window | Download