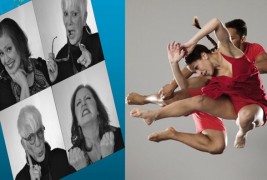 A spotlight on two different productions:  Dmae Roberts talks with Ritah Parrish and Wendy Westerwelle in  Triangle Productios 25 Questions For A Jewish Mother and later in the show, White Bird's Walter Jaffe tells us about New Zealand dance troupe Black Grace, presented by White Bird Dance in their Portland premiere. (Aired Tues Feb. 12th at 11am on KBOO 90.7FM and encores Sat. Feb. 16th 11am on KZME 107.1FM)
___________________________________________________
Triangle Productions presents Ritah Parrish and Wendy Westerwelle, two of Portland's leading comic actresses in 25 Questions For A Jewish Mother written by Emmy Award-winning Judy Gold (writer/producer on The Rosie O'Donnell Show.) co-written with Kate Moira Ryan.  According to Triangle's artistic director Don Horn, 25 Questions is "one of those shows for everyone, but be forewarned that not everything word that comes out of a Jewish mother has gems of wisdom behind them, but what they do say makes for an entertaining evening."
Podcast: Play in new window | Download
Wendy Westerwelle on the secret of comedy: "It has to be honest. If it doesn't come from me,  inside me, inside what I know, if it doesn't from tragedy or love or some real emotion, it is not funny. Being mean is not funny. Putting people down is not funny. Putting myself down and criticizing my frailties is funny if I do it with love."
This Triangle production is the first production done by anyone other than Judy Gold. 25 Questions for a Jewish Mother is based on a series of interviews with more than 50 American Jewish mothers. Their stories are interspersed with anecdotes about her own mother and her life as a lesbian mother of two sons. It ran at the Ars Nova Theater in New York City in early 2006 and reopened on October 12, 2006, at St. Luke's Theater.
25 Questions For A Jewish Mother with Ritah Parrish and Wendy Westerwelle.
Location: Triangle Productions
The Sanctuary at Sandy Plaza
1785 NE Sandy Blvd
Portland, OR 97232
Reserved tickets $15 to $35.For reservations and ticket info, visit to www.tripro.org or call 503-239-5919
__________________________________________________
White Bird Dance presents the Portland debut of New Zealand's acclaimed Black Grace on Tuesday, Feb. 19th at Arlene Schnitzer Concert Hall . Black Grace blends Samoan ceremonial movement and contemporary dance.  Based in Auckland and under the artistic direction of Neil Ieremia, Black Grace is New Zealand's leading contemporary dance company with an ensemble of Samoan and Maori dancers. The term black in the company name Black Grace refers to courage in the New Zealand Māori/Pacific Islander argot of the 1980s.  Neil Ieremia's choreography incorporates elements of slap dancing, which include speaking, singing and slapping the bodies.  Germany's Main Post has called Black Grace "a thrilling bond between ceremonial dances…and an athletic form of modern dance."
Black Grace is the inspiration of White Bird's 13th Outreach Project with Portland Public Schools, which will include a multi-disciplinary on-line curriculum on the theme of"Indigenous Cultures in New Zealand and Australia," culminating in a free student performance for PPS at the Schnitzer on February 20  (not open to the public).
Black Grace,  presented by White Bird, at the Arlene Schnitzer Concert Hall, directed by Neil Ieremia. Single show only, Tuesday, February 19, 7:30 pm.
Tickets: $26-$64 available at www.whitebird.org and at PCPA Box (ZERO ticket fees).  Also available at 1-800-380-3516 (additional fees will apply).
You can hear Stage & Studio at: