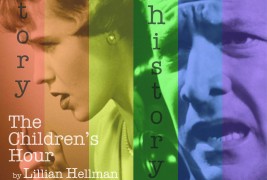 A new look at two classic Lesbian and Gay plays: The Children's Hour by Lillian Hellman and The Boys In the Band by Mart Crowley. defunkt Theatre with director Jon Kretzu gives two plays that broke new ground to focus on homosexuality in mainstream America.  Well hear from the director and two defunkt members, Grace Carter and Matthew Kern who appear in each play. And in the last part of the show we'll hear from reviewer Justin Hartwig and his thoughts on the film documentary Searching For Sugarman. 
 (Encores Sat 11am 5/18 on KZME 107.1FM)
Podcast: Play in new window | Download
defunkt Theatre presents Herstory/History : a pair of landmark plays in repertory: The Boys in The Band by Mart Crowley and The Children's Hour by Lillian Hellman. These plays have been rarely seen in recent years but they still have a great deal to say historically about sexual orientation in America. Lillian Hellman's first play, The Children's Hour is a tragic story of two women falsely accused of a sexual relationship and the devastating consequences of that lie. The nine men that make up The Boys in the Band were among the first positive depictions of openly gay men in America.
Culminating in this summer's Pride Festival, director Jon Kretzu collaborates with defunkt theatre to produce two evenings of theater that mirror and inform each other, showing us both how far we have come as a society, and how far we have yet to go.
The Boys in the Band
It's Harold's birthday, Michael is throwing a party and you are invited. Performed "on location" in a site specific location with audience seated throughout the space as guests at the party.
Performed in a private home dressed to recreate the 1960s, Jon Kretzu's reimagined The Boys in the Band is a not to be missed theatrical event unlike any other show this season.
Due to the unique nature of this performance, seating is extremely limited for The Boys in the Band.
The Children's Hour
Lillian Hellman's classic tale of false accusations and their consequences.
Jon Kretzu, an ensemble of Portland's finest actors, and an extraordinary design team collaborate to lay bare the timelessness of this landmark work of American theater, by one of America's first successful female playwrights
 defunkt theatre's Herstory/History: The Boys in the Band by Mart Crowley and The Children's Hour by Lillian Hellman directed by Jon Kretzu runs through June 15,  2013.  All Performances are at 7: 30 pm.  To purchase tickets and see a detailed performance schedule visit defunktheatre.com.
 Shows are in two locations: 
The Boys in the Band  is performed "on location" at 3125 NE Burnside, Portland
With: Jeffrey Arrington, Bjorn Anderson, Matthew Kern, Arthur Franklin, Jake Street, Joshua Rice, Jason Glick, Christopher Ringkamp , and Matthew Kerrigan.
The Children's Hour (opens Friday, May 17) at the Back Door Theater 4319 SE Hawthorne Blvd. Portland.
With: Melissa Whitney, Grace Carter, Jane Fellows, David Bellis-Squires, Roxanne Stathos,  Anna Bishop, Sophie Shely,  Kate Thresher, Allie Rangel, Calvin Metcalf.
______________________________________________________
Also, hear filmmaker and videographer Justin Hartwig review the documentary film, Searching For Sugarman, that debuts on the Starz channel on May 22nd. 
The film is about two South Africans who set out to discover what happened to their unlikely musical hero, the mysterious 1970s rock 'n' roller, Rodriguez who recently regained national attention.
_______________________________________________________
You can hear Stage & Studio on…
________________________________________________
Between the dark and the daylight,
When the night is begining to lower,
Comes a pause in the day's occupations,
That is known as the Children's Hour.
I hear in the chamber above me
The patter of little feet,
The sound of a door that is opened,
And voices soft and sweet.
From my study I see in the lamplight,
Descending the broad hall stair,
Grave Alice, and laughing Allegra,
And Edith with golden hair.
A whisper, and then a silence:
Yet I know by their merry eyes
They are plotting and planning together
To take me by surprise…
The Children's Hour
Henry Wadsworth Longfellow