My Name Is Rachel Corrie & Brothers of the Baladi
Host Dmae Roberts features "My Name Is Rachel Corrie" and Brothers of the Baladi's "Mosaic: A Day of Music & Dance" on Tuesday, September 21 at 11am on KBOO 90.7 FM.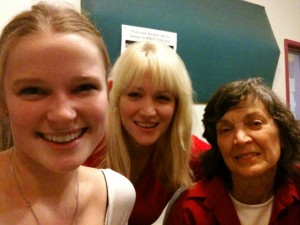 Northwest Classical Theatre Company and Three Good Friends presents a two-person play about Rachel Corrie, a 23-year-old Evergreen College student from Olympia, Washington who in 2003 was crushed to death in the Gaza Strip by an Israel Defence Forces (IDF) bulldozer when she was kneeling in front of a local Palestinian's home to keep them from demolishing the home.
Compiled and edited by actor Alan Rickman and  The Guardian's Feature Editor, Katharine Viner in London, this controversial play is based on Rachel Corrie's writings. "My Name Is Rachel Corrie" features two actresses.Dmae talked with Director Megan Kate Ward, Actress Madeline Rogers and Producer Bibi Walton.
And in the second part of the show, Dmae talks with Michael Beach from Brothers of the Baladi about "Mosaic: A Day of Music & Dance" on September 25th.
This Portland band presents a ful day of music and dance workshops and an evening concert focusing on a festive appreciation of Middle Eastern music.
Beach also debuts one of the new songs by Brothers of the Baladi recorded and mixed just for Stage & Studio.
You can also check out Stage & Studio at the KBOO website
Or you can subscribe to the podcast on iTunes so you don't have to miss a show.
Podcast: Play in new window | Download