Catherine J.H. Miller + A. Molotkov
Host Dmae Roberts presents a feature story by Tali Singer about  'A Somewhat Secret Place' an exhibition of art, literature and performance curated and created by artist Catherine J. H. Miller.
Producer Tali Singer worked with Dmae Roberts to bring this profile of Miller and her project that combines art and awareness to create disability pride art in Portland.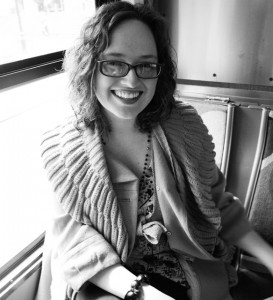 Miller who is legally blind has broken barriers to her work as an artist and now she hopes to inspire conversations about disability culture and the fine art world. This show is part of our Pushing Boundaries series.
'A Somewhat Secret Place' Exhibition is presented the entire month of July at PRESENTspace located 939 NW Glisan, PDX, 97209 (Enter on 10th Avenue.) Hours  M-Sat 11am – 5pm.
Find more info at:Â 'A Somewhat Secret Place' blog.
Podcast: Play in new window | Download
A. Molotkov[/caption]

A. Molotkov is a writer, composer, filmmaker and visual artist.  Born in St. Petersburg, he moved to the U.S. in 1990 and switched to writing in English in 1993.  He is the author of several novels, short story and poetry collections and the winner of the 2011 Boone's Dock Press poetry chapbook contest for his upcoming "True Stories from the Future".   His credits also include the 2010 New Millennium Writings and 2008 E. M. Koeppel Fiction Awards, and a Pushcart nomination.  Molotkov's work has appeared in over 50 publications, both in print and online.  Visit him at www.AMolotkov.com.

Join us for the special edition of Stage & Studio .

You can hear Stage & Studio  live at the KBOO.FM or on 90.7FM live at 11am Tuesdays.

And tune into re-broadcasts of Stage & Studio at Portland's Cascade Community Radio at  Radio23.org.

Or you can subscribe to the podcast on iTunes so you don't have to miss a show.

And always browse our archive of shows at the official Stage and Studio website.

Podcast: Play in new window | Download