The New Artists Rep
Dmae Roberts checks in with Dámaso Rodriguez, artistic director of Artists Repertory Theatre. After a season of plays that didn't differ too much from the Artists Rep's past seasons, Rodriguez opened the most diverse season in the company's history starting with Lynn Nottage's Intimate Apparel and Carlos Lacámara's Exiles. The rest of the season offers plays such as Tribes that delves into a deaf community and The Invisible Hand by Ayad Aktar set in Pakistan.
Podcast: Play in new window | Download
Rodriguez has also assembled a diverse group of resident artists who represent a variety of  groups in the community. It would seem that Artists Rep's  2014-15 season no longer follows the traditional mainstream theatre model of predominantly white plays with only one African American or Latino play and this season might set the tone for a new direction for the theatre. We'll hear more about Rodriguez opening shows and his long-term vision for the rest of the season.
(Interview aired live 11am Tues 9/30 on KBOO 90.7FM or KBOO.fm)
Intimate Apparel by Lynn Nottage
Directed by Michael Mendelson
September 9 – October 5, 2014, Wednesday through Sunday at 7:30pm; Sundays at 2pm; and Saturday, Oct. 24 @2pm. All shows at Artists Repertory Theatre – Alder Stage, 1516 Alder St. Portland, OR 97205
TICKETS: $25-$55, Discounts available: Seniors, Students, Under 25
For more info: 503.241.1278 or www.artistsrep.org
About Intimate Apparel: Set in 1905 NYC, this riveting tale is about the empowerment of Esther, an African American seamstress who creates exquisite lingerie for Fifth Avenue boudoirs and red-light brothels. As she yearns for a different life, she finds unconventional friendships with clients that defy race, religion and class. Artists Rep kicks off the 2014/15 season with the long-awaited Portland debut of this award-winning, Off-Broadway and regional theatre sensation by a Pulitzer Prize-winning playwright.
__________________________________
Exiles by Carlos Lacámara
Directed by Damaso Rodriguez
September 30 – October 26, 2014, Opening Night is Saturday, Oct. 4. Shows ae Wednesday through Sunday at 7:30pm; Sundays at 2pm; Wednesday, Oct. 15 @ 11am and Saturday, Oct. 25 @ 2pm. Performances are at Artists Repertory Theatre – Morrison Stage, 1515 Morrison St. Portland, OR 97205
TICKETS: $25-$55; Students, Under 25 tickets $25, Pay-What-You-Can preview performance on Tuesday, Sept. 30. More info: 503.241.1278 or www.artistsrep.org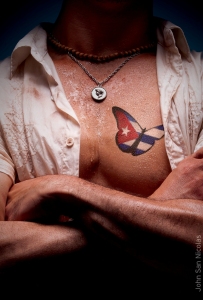 About Exiles:
When a storm leaves their tiny vessel helplessly adrift at sea, tension escalates as six Cuban refugees find themselves in a desperate battle against the elements, each other and their past. Set during the 1980 Mariel Boatlift when Fidel Castro allowed Cuban-Americans to bring family members by boat to America, but only if they took "undesirables" with them, this new play from a Cuban-born playwright sheds light on a rarely told, but fascinating story in American history.
About the playwright:
Carlos Lacámara was born in Havana, Cuba on November 11, 1958. He and his parents left Cuba to escape the Cuban Revolution when Carlos was just 2 years old. From there he moved to Washington D.C., then to Puerto Rico, then to California, where he resides now. Carlos graduated from UCLA, and then started his acting career. A professional actor for 25 years, Carlos has appeared in over 100 television shows, including recent appearances in Curb Your Enthusiasm, Lie To Me and Desperate Housewives.
In April 2000, Carlos Lacámara returned to Cuba after an absence of 40 years. His observations and conversations with his family and other Cubans inspired him to write the play, Becoming Cuban, which The Los Angeles Times called "A rare, insightful new play," and the LA Weekly proclaimed the "Best Political Drama of 2002." Exiles is the third play in his trilogy of Cuban plays.
You can hear Stage & Studio on: