Profile Theatre + Margaret Cho Speaks
Dmae talks with Margaret Cho about her recent Golden Globes controversy. Then we focus on Adriana Baer (featured left0, artistic director of Profile Theatre about their new season of plays dedicated to the work of MacArthur-winning playwright Sarah Ruhl. Each season the theatre chooses four plays by one playwright along with a staged reading series. The 2015 season begins with Dead Man's Cell Phone. We'll hear about that play and get an overview of the season and what makes Sarah Ruhl stand out as a prolific contemporary playwright.
(Aired 11am  Tues 1/13/15 on KBOO 90.7FM. )
Podcast: Play in new window | Download
Transcript of the interview with Margaret Cho:
YOU'RE NO STRANGER TO CONTROVERSY… BUT THE LATEST IS ABOUT A CHARACTER YOU PLAYED ON THE GOLDEN GLOBES– A NORTH KOREAN GENERAL WHO'S A JOURNALIST FROM THE MAGAZINE "MOVIES WOW." WHAT DO YOU MAKE OF ALL THE COMMENTS AND PRESS YOU'VE BEEN GETTING?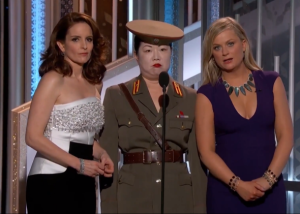 Cho: It's interesting because most of it is overwhelming praise. Most people are saying it was the best part of the awards ceremony, which I'm very proud of. I did it because I really believe in free speech. My family is all Korean—you know North and South Korea used to be one country—my family is from North and South Korea. We're all kind of from there and my family has been in prison and in slavery to this totalitarian regime for 65 years. And the only weapon we have is comedy, or at least I do. And it's alarming that so many allegations of racism have come up. People in media are usually so insensitive toward Asians and they see them all the time and nothing happens. And then I do something and everybody goes crazy. That's racist.
I THINK MOST OF THE NEGATIVE COMMENTS CAME FROM NON-ASIANS BUT ASIANS SEEM DIVIDED ABOUT THE CHARACTER AS A STEREOTYPE. I PERSONALLY THOUGHT IT WAS FUN TO HAVE YOU AS A CHARACTER GET A PHOTO WITH MERYL STREEP, TAKEN BY MICHAEL KEATON, AND PHOTO-BOMBED BY BENEDICT CUMBERBATCH. HOW OFTEN DOES THAT HAPPEN?
Cho: It's great… I was the only Asian person at the event. I was the only one!
THAT'S WHAT I WANTED TO ASK YOU ABOUT. THAT'S WHAT MADE IT CRINGE-WORTHY FOR ME WAS REALIZING THERE WERE NO OTHER ASIANS NOMINATED OR ONSTAGE AS PRESENTERS…THE BIG LACK OF ASIAN PRESENCE AT THE GOLDEN GLOBES. DO YOU THINK THIS CONTROVERSY HAS BROUGHT AWARENESS TO THAT?
Cho: I hope so but there's always a lack of Asian presence in film and television. This is a classic thing—that we don't have a presence that is that monumental…ever. And that's an unfortunate thing. It's really the invisibility we're trying to fight against. I've been trying to break through this kind of invisibility for 30 years, and every time I do it, I'm criticized for it. So I'm not necessarily that concerned about another time. This happens every single time I do anything and I don't really know why. I think it has to do with the lack of images of Asian Americans, and when you see them, it's so shocking still. I don't know why.
WELL I THINK YOU'RE UNDER A MICROSCOPE WHEN YOU'RE THE ONLY ONE?
Cho: Yeah. I was looking at KoreAm magazine and on the cover is Randall (Park) who played Kim Jung-un in The Interview—the absolute person who's doing the exact same thing. Maybe because I'm a woman…I always thought that was true ever since I started I thought I'd have a difficult time breaking through and having more of a difficult time because I'm a woman and because maybe Koreans want to be represented by a man, which is just a weird thing. I'm not sure why it's like that.
WAS THERE ANY DISCUSSION ABOUT YOU JUST PRESENTING AN AWARD THERE AS YOURSELF?
Cho: No! No… This was a secret thing. I had not presented at the Golden Globes since 1993. I was not invited by the Foreign Press Association. I was invited specifically by Tina (Fey) and Amy (Poehler) so it was their secret part. They didn't tell anyone. And so there was no space for me to be in the ceremony anyway.
SO REALLY AMY AND TINA BROUGHT YOU ON?
Cho: Yes. It was their wanting to include me in the conversation and include me in the joke of it which I think was really brilliant.
WOULD YOU EVER PLAY THIS CHARACTER AGAIN?
Cho: Yeah, of course! It's basically a take on my mother which I do all the time. It's not something I would ever shy away from. I've been doing it for 30 years, in my work whether it's stand-up comedy or acting. It's just a character that I've played forever. I would never shy away from representing my family or where I come from or who I am. Why should I? And why should anyone? Why? I don't understand that.
NO REGRETS?
Cho: No way! There's really no point because the regret is how do I regret my skin or my identity? Or my heritage? Is that what the regret is supposed to be about? Should I regret who I came from? Or where I come from?
ANY FINAL WORDS YOU WANT TO SAY ABOUT ALL THESE CRITICISMS?
Cho: It's racist. Unfortunately, it's racist. And my response is totally sorrow that people don't see it. And that they may recognize it at some point, but it's the shock of seeing an Asian face and that's not fair. I think it's unfortunate.
IT IS UNFORTUNATE. AND I HOPE THEY RECTIFY BY HAVING YOU COME FORMALLY ON THE GOLDEN GLOBES AS YOU—MARGARET CHO—BECAUSE YOU DESERVE THAT.
Cho: I would love that. It's fun to be a part of it. I loved Tina and Amy. I enjoyed the event. And it's really the only thing anybody is talking about. That is something to be conscious of. Of all the the stuff that was happening, I'm the only thing that made a difference.
Margaret Cho has a new show called "All About Sex" on the TLC network Saturdays at 11pm. Find out more about Margaret Cho at MargaretCho.com. 
_______________________________________________________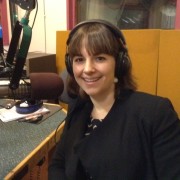 Adriana Baer continued the theme of strong women and lack of representation by discussing Profile Theatre's new season of Sarah Ruhl plays. When asked if Profile will continue brining more women playwrights, she unequivocally said "Yes!"
Hear more of a thoughtful incisive talk about gender equity in Portland theatre and beyond. And hear details about their 2015 season. More info at ProfileTheatre.org.
DEAD MAN'S CELL PHONE
directed by Adriana Baer
1.29.15 – 2.15.15 | Morrison Stage
When Jean takes possession of the cell phone of a dead man, she is thrown into a mysterious journey of self-discovery and awakening. Through this small modern device, she finds adventure, purpose and even love – but at what cost? This hilarious and paradoxical treatise on the digital world probes at the thin line between reality and fantasy, privacy and openness, and even life and death.
IN THE NEXT ROOM, OR THE VIBRATOR PLAY
directed by Adriana Baer
6.11.15 – 6.28.15 | Morrison Stage
Enter the home of Dr. Givings; husband, doctor, inventor, and healer of feminine hysteria. As this man of science pioneers new therapies for women in the dawning age of electricity, his young wife Catherine begins to wonder what exactly is going on behind the closed door of his operating theatre. Â In the Next Room, or the vibrator play is a wickedly humorous tale of sex, intimacy, and the discovery of pleasure.
directed by Samantha van der Merwe
9.10.15 – 9.13.15 | Morrison Stage
Traveling through time and around the world, centuries of religion, faith, and politics collide through performances of the Passion of the Christ.  This sweeping exploration of the "greatest story ever told" exposes its transformative effect on the small communities that enact it, while asking big questions about humanity, faith, and doubt.
Passion Play is our Fall Festival production – which means anything can happen!  From site-specific scenes to parades to live music and libations, get ready for a celebration not to be missed.
This is a seated, ticketed event – seats will be accessible to patrons with mobility concerns.
ORLANDO
directed by Matthew B. Zrebski
11.5.15 – 11.22.15 | Alder Stage
Orlando, a young Englishman, sets out to encounter love and adventures with Queens and Kings, princesses and archdukes, historic poets and fictional sea captains.  Riding waves that transcend time and space, Orlando transforms again and again.  This epic tale of discovery, based on Virginia Woolf's novel, crashes through the ages as a whimsical, gender-bending fantasy.
IN DIALOGUE
In Dialogue is our series of lectures, pre-show talks, post-show discussions, concerts and other supplemental programming that explore our featured writer's world.  Profile Theatre is committed to providing our audiences with opportunities to engage with our featured writer in unique and varied ways.  Through our In Dialogue programming, we extend the event of a Profile production beyond the bounds of what is onstage, bringing the community together for an exciting, provocative and inspiring experience.
In Dialogue readings include new and contemporary plays in conversation with Sarah Ruhl's body of work.
In Dialogue Staged Readings: FREE ADMISSION
THREE SISTERS
by Anton Chekhov, adapted by Sarah Ruhl
in collaboration with Reed College
3.2.15 – 3.3.15 | Alder Stage
THE REVOLUTIONISTS
by Lauren Gunderson
5.4.15 – 5.5.15 | Alder Stage
THE LADY ONSTAGE
by Erin Bregman
7.13.15 – 7.14.15 | Morrison Stage
THE OLDEST BOY
by Sarah Ruhl
10.5.15 – 10.6.15 | Morrison Stage
Click here to learn more about Sarah Ruhl
For More info, call 503.242.0080  or email Boxoffice@profiletheatre.org.
Tickets are $32 for all regular performances. $25 for all preview performances. Students and those 30-and-under are $15. Preview Rush: $15 tickets can be purchased for preview performances on the day of the performance only, 1 hour prior to curtain time at the box office. 1 ticket per person. Groups of ten or more receive a discount off single tickets. Tickets can be purchased at profiletheatre.org by calling box office at 503.242.0080 Tuesday through Friday noon – 4pm.
Location: Dead Man's Cell Phone will be performed on the Morrison Stage at Artists Repertory Theatre, located at 1515 SW Morrison Street in Portland. For directions and parking information, visit Profiletheatre.org/planyour-visit/
______________________________________________
You can hear Stage & Studio on: