The Liar + In The Next Room
Dmae Roberts goes on location to Artists Repertory Theatre and Profile Theatre,
which is one of the companies in resident there. First she talks to artistic director Damaso Rodriguez on opening day of the French farce
The Liar
 newly adapted by David Ives
and running till June 21st.
. We get a heads up on the 2015-16 season! Then we visit with
Adriana Baer, Profile Theatre's artistic director who opens Sara Ruhl's In the Next Room, or the vibrator play on June 11th. 

(Airs 11am Tues 6/2/15 on KBOO 90.7FM &Â Stagenstudio.com)
Artists Repertory Theatre closes its 2014/15 season with
The Liar, an adaptation of Pierre Cornielle's 17th Century French comedy by David Ives, a playwright best known for hilarious adaptations and plays such as All In The Timing and Venus in Fur.
All shows are on their Mainstage Alder Stage, 1516 SW Alder St. Portland, OR 97205.
Show runs through June 21, 2015Â June 21, 2015Â  Â  Â Â 
TICKETS:Â 
$25-$55; Students, under 25 tickets $25
·         Pay-What-You-Can first preview performance: Tuesday, May 26
·         Preview performances:  Tuesday – Friday, May 26 – May 28
·         Regular run: Wednesday-Sunday at 7:30pm and Sundays at 2pm
·         Additional performances: Wednesday, June 10 at 11am; Saturday, June 20 at 2pm (ASL interpreted performance)  
Buy tickets:Â  503.241.1278 or www.artistsrep.org
ABOUT THE PLAY
From the brilliant, comedic mind of David Ives (All in the Timing, Venus in Fur) comes a hilarious "translaptation" of this 17th Century French romp, replete with wild misassumptions, mistaken identities and tangled truths. Played out in outrageously clever verse, expect lightning-fast pace, anachronistic twists and a hip cast, with plenty of nods to Corneille's neo-classical original.
The Liar is a farcical play by Pierre Corneille that was first performed in 1644. It was based on La Verdad Sospechosa by the Spanish-American playwright Juan Ruíz de Alarcón, which was published in 1634. Davis Ives' adaptation made its world premiere in 2010 at Shakespeare Theatre Company in Washington, DC.
___________________________________________________________________
Profile Theatre presents
In The Next Room, or the vibrator play by Sara Ruhl
June 11 – 28, 2015
A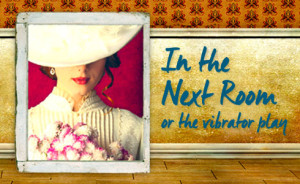 bout the play: Enter the home of Dr. Givings: husband, doctor, inventor and healer of feminine hysteria. As this man of science pioneers new therapies for women in the dawning age of electricity, his young wife Catherine begins to wonder what exactly is going on behind the closed door of his operating theatre.
In the Next Room, or the vibrator play
is a wickedly humorous tale of sex, intimacy and the discovery of pleasure.
In the Next Room, or the vibrator play contains adult themes and nudity.
Featuring: Lauren Bloom*, Foss Curtis, Karl Hanover*, Matthew Kerrigan, Leif Norby*, Beth Thompson, and Ashley Williams.
Profile Theatre offers the following special events to accompany the main stage production of In the Next Room, or the vibrator play as part of their In Dialogue Series.
Wednesday, June 17th:
Brave New World: Achieving Gender Equity in the Performing Arts | 7:30pm
FREE!!Profile and Oregon Humanities are partnering to to facilitate a discussion about issues of gender equity across performing arts disciplines. Moderated by Kimberly Howard, the conversation will discuss the current state of affairs and explore specific ways to effect change moving forward.
Staged Reading of Shakespeare's Measure for Measure | 7:30pm
FREE!!
Profile's contribution to the city-wide Complete Works Project, members of the cast of 
In the Next Room, or the vibrator play
 will explore issues of sex, morality and female agency from another perspective – Shakespeare's – in this one-night-only event.
Morrison Stage |Â 
Reserve Free Tickets Here
You can hear Stage & Studio on: