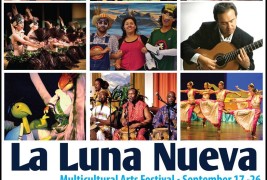 Host/Producer Dmae Roberts talks with Olga Sanchez, artistic director of Milagro Theatre about La Luna Nueva that kicks off Milagro's 35th season. This is maybe Olga's last interview with Stage & Studio for awhile as the outgoing artistic director. She'll be joined by Susan Addy, executive director of The Obo Addy Legacy Project and Charlie Okada,executive director of the  Ora Nui Tahitian Dance Troupe.
(Aired 11am TUES 9/1/15 on KBOO 90.7FM or always on stagenstudio.com.)

Podcast: Play in new window | Download
September 17-26, 2015
At Milagro Theatre at
​525 SE Stark St. Portland, OR 97214.
Milagro's multidisciplinary festival celebrates Hispanic Heritage Month with live music, dance and theatre, focusing on children and family-friendly entertainment. Joyfully committed to collaboration and diversity, La Luna Nueva's line-up will feature Latino and non-Latino cultural performances of live music, dance, theatre, fun workshops, and more all geared for kids and families.
Tickets to this multicultural and multidisciplinary festival available at Milagro Theatre at www.milagro.org.
The Obo Addy Legacy Project
Thursday, September 24, 2015 at 6:30PM
MUSIC AND DANCE
Tickets: Adult Advance $8; Adult at door $10
Youth under 15, students, veterans $5; $8 door
Also, a special evening of music, dance and friendship to present Obo Addy's final CD –
"The Best of Obo Addy" will be held on September 13, 2015 at Vie de Boheme at 6:00 pm.
This will mark three years since his death.
$20.00 VIP-Reserved Seating and it includes the CD.
$8.00 General Admission
$5.00 for children under 10 – Minors allowed with adult until 9:00 p.m.
To purchase tickets: http://www.brownpapertickets.com/event/2105974
More about Obo Addy Legacy Project: Okropong meaning "eagle" in Obo Addy's native Ga language, performs traditional Ghanaian dance and music chosen from the various ethnic cultures in Ghana, including Ga, Ewe, Ashanti, Dagomba and Dagarti. Using a variety of hand and stick drums, talking drums, bells and shakers, the musicians build layers of driving rhythms while the dancers, clad in colorful West African garments, engage in an energetic physical "conversation" with the drummers. At the end of each concert, both musicians and dancers engage the audience in a spirited call and response, celebrating that shared experience with them through song and dance.
_________________________________________________
Ora Nui Tahitian Dance
Ora Nui Tahitian Dance Troupe
Friday, September 25, 2015 at 7:30PM
Tickets: Adult Advance $7; Adult at door $10
Youth under 15, students, veterans $5; $8 door
​
ABOUT ORI TAHITI
Ora Nui is owned and operated by Polynesian sister duo Roxie "Tevai" Gabriel and Charlie Okada. These sisters have made it their mission to share authentic Ori Tahiti (Tahitian dance), music, language and culture with the Vancouver and Portland communities. Since its opening in November of 2011 the school has grown leaps and bounds and now includes dance classes for girls ages 4 – adults and guys ages 6 – adults.
 You can hear Stage & Studio on: