Unit Souzou-1 year later!
More than a year ago, Dmae talked with Michelle Fujii and Toru Watanabe, co-directors of UNIT SOUZOU about the new company they created. Now they're getting ready to premiere their first original work 88: Hachi Hachi for their anniversary as a married couple but also to celebrate more than a year of working steadily as Portland's newest taiko company. Tune in to hear more about this new production!
(Aired 11am Tues 9/23  on KBOO 90.7FM or always on stagenstudio.com.)
Podcast: Play in new window | Download
88: Hachi Hachi, the company's first original production debuts October 2, 2015 at Zoomtopia in SE Portland. The title evokes a number of layers the duet will explore. The couple's anniversary is August 8. Hachi translates to "8", and hachi hachi also means "head to head," the touching of foreheads symbolizing an intimate communication. The number 88 is considered an auspicious number.
Intricately weaving taiko, dance and theatre, 88: Hachi Hachi  the new theatrical work investigates the space that exists between two people. UNIT SOUZOU Co-Directors, Michelle Fujii and Toru Watanabe face each other through a rhythmic journey uncovering their entwined lineages and personal stories.
UNIT SOUZOU brought together multimedia theater artist Susan Banyas to direct and  Eric Nordstrom to incorporate contact improvisation and Drammy award winning lighting designer Jeff Forbes.
Performances are Friday, October 2 at 8pm, Saturday, October 3 at 8pm and Sunday, October 4 at 2pm at Zoomtopia's Studio 2, 810 SE Belmont St, Portland. Tickets go on sale August 15. Advance tickets for adults are $15, $18 at the door. Discounted prices for artists, students and seniors.
Get tickets at:Â http://www.brownpapertickets.com/event/2142405
About Unit Souzou:
Portland's newest professional taiko company, UNIT SOUZOU (pronounced "sohzoh") is at the forefront of a growing artistic movement within the world-wide taiko community.  With over 20 years of professional experience, Michelle Fujii and Toru Watanabe, co-directors of UNIT SOUZOU are relentless innovators known for their fusion of taiko and Japanese folk dance.  'Souzou' can be written in three ways meaning 'creation' (å‰µé€ ) 'imagination' (想像) or 'noisy' (騒々) alluding to a force by which new ideas are born and take shape in the world.  Inspired by these words UNIT SOUZOU focuses on building creative and imaginative works for the art form of taiko.  In addition to creating groundbreaking theatrical works, UNIT SOUZOU is deeply committed to share taiko through teaching in schools, collaborating with the local community, and offering public classes.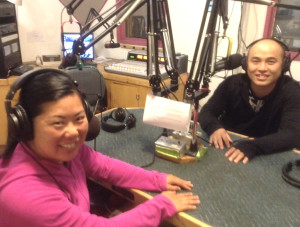 About the director:
Susan Banyas is a multimedia artist, director, and educator. The Hillsboro Story was produced by Artists Repertory Theatre, 2010/11 season, Portland, OR; and No Strangers, a collaboration with jazz composer David Ornette Cherry, was commissioned by Los Angeles Library Foundation for the Aloud at Central Library series. It's Been a Busy Week is an on-going performance/practice of gleaning physical poetry from the soul of the week and shaping it into dance stories and visual theatre. The ensemble dance work was presented in 2011 at the Art Gym/Marylhurst University. Blue Wheel is dance video response to a residency at the Robert Rauschenberg Residency Program in Captiva, Florida and is currently in development as multi-media performance.
_______________________________________________
 You can hear Stage & Studio on: