Imago's ZooZoo
Dmae presents the final production and tour of Imago Theatre's ZooZoo. For more than 30 years, this family treat full imaginary animals and whimsical dance has delighted audiences around the world. Co-founders and co-artistic directors Jerry Maowad and Carol Triffle reminisce about this beloved show along with longtime performer Pratik Motwani. We'll also hear what's in store for the veteran company's future.
(Airs 11am Tues 11/8 on KBOO 90.7FM or always on stagenstudio.com.)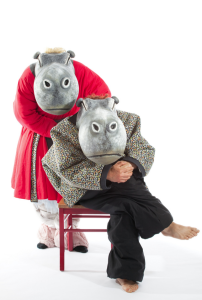 Imago Theatre presents the final return of
ZOOZOOÂ 
IN PORTLAND DEC 11 – JAN 3
 Tickets are $17.50 Kids
$29.50 Youth/Senior
$34.50 Adults.
They are available at the door or by calling Imago: 503.231.9581. Or Ticketsest : 503.224.8499 or at TicketsWest.com.
Podcast: Play in new window | Download
Imago is bringing back to Portland its globe trotting production ZooZoo this December before it heads off on its final national tour. Firefly eyes, hippos with insomnia, arrogant anteaters, introverted frogs, paradoxical polar bears, acrobatic worms, self touting accordians and tricky penguins fill the stage with wonder, awe and humor. ZooZoo has toured internationally since 2009 following on the heels of Imago's signature work FROGZ."This very well might be our last presentation and national tour of our mask theatre work. La Belle is charting a new course for Imago and we're leaving behind the special world of mask theatre, which has been our forte for several decades. It will be a sad goodbye," says Mouawad.
For those that want to see Imago's ZooZoo 
before it closes, be sure to catch it this coming holiday season before those critters are packed off to company storage (Imago's warehouse museum of fascinating creatures.)!
Recommended for 3 and older
"Magic and spectacle … amazed and enchanted … thrilling … hysterical … a supremely theatrical spectacle … completely immersing …  the most purely gratifying moments of theatre I have seen!" NY Theatre.com
Top Five Reasons Why Imago's Work has been a Global Hit for over Three Decades.
#1. The Universal Language of Movement.  Every animal communicates through movement.  A child approaches a cat.  The child knows pretty quick whether the cat is approachable.  How? Movement.  ZooZoo is all movement discovering all the little moments between each creator and another.
#2. The Best of the Best.  ZooZoo is a culmination of 30 years of Imago's experimentation in the enchanting world of mask theatre.  It's the constant refinement of the work that has made it so popular.  Like a good chef mastering a perfect dish – we have tried to do the same with our work.
#3. Creatures we all know, that we all recognize are part of collective subconscious.  We may not know the true nature of Polar Bears and Penguins and Frogs.  But we, as a culture, have defined their demeanor (be it true or untrue) It is those identifications which makes their appeal to us even more exciting when we see them animated on stage.
#4.  Rehearse, perform, re-write, rehearse, perform, re-write.  It is this continual process of refining the work that makes it so popular.  It took us 8 years of working Polar Bears before we thought we got it right. It took 25 years to get the Frog piece as perfect as we could.
#5. FUN.  ZooZoo is probably the most fun show within a thousand miles whenever it's playing.
You can hear Stage & Studio on: