OHS + Julia Cho
Dmae features two exhibits focusing on Asian exclusion laws: She'll talk with Eliza Canty-Jones, Editor of the Oregon Historical Quarterly and director of community engagement at the Oregon Historical Society. She'll be joined with filmmaker Felicia Lowe who will be in town to show her film Chinese Couplets.
And in the latter part of the show, hear playwright Julia Cho talk about her writing process and her play The Language Archive which will have a staged reading on March 26th at Portland Center Stage and April 2nd at Milagro Theatre. More info at: TheatreDiaspora.org.
___________________________________________________
You can hear Stage & Studio on:
___________________________________________________
Portland film premiere of Chinese Couplets Presented by Felicia Lowe. Free and open to the public. Saturday, March 12, 2016, 5PM – 7PM at the Oregon Historical Society. More info: http://ohs.org/events/chinese-couplets.cfm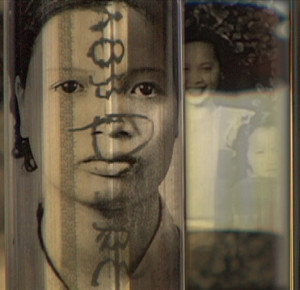 More about the film:Â Chinese Couplets, the story of exclusion for one family, over two centuries, in three countries, and four generations of women. Told from the filmmaker's point-of-view, the documentary explores the universal themes of intergenerational strife between immigrants and their American born children, the often painful price paid by immigrants who abandoned their personal identity and their homes, and the burden of silence passed on to their offspring. A Q&A with the film maker will follow the screening.
OHS also hosts Dr. Judy Yung for a slide presentation at 2pm on the lives and stories of Chinese women in America during the Chinese exclusion era. This presentation will explore how these women responded to racial, class, and gender discrimination with resourcefulness, agency, and resilience. Judy Yung talk about the poetry and history of Chinese immigrants the Angel Island Immigration Station on March 13th. More info at: http://ohs.org/events/beyond-the-gate-opening-celebration.cfm
Chinese American: Exclusion / Inclusion, on display now through June 1, 2016. On loan from the New York Historical Society, this exhibition will make its only appearance on the West Coast at OHS before being sent to China for display.In conjunction, the Oregon Historical Society's museum will also open a second exhibition on February 29 entitled Beyond the Gate: A Tale of Portland's Historic Chinatowns. This original exhibit tells the hundred year history of Portland's Old Chinatown (1850-1905) and New Chinatown (1905-1950). Unbeknownst to many Oregonians, Portland in fact was home to the second largest Chinatown in the nation in 1900.
For a full calendar of programs, visit www.ohs.org/events.
The Oregon Historical Society located is located at 1200 SW Park Ave, Portland, Oregon 97205. The museum is open seven days a week, Monday – Saturday from 10am – 5pm and Sunday from 12pm – 5pm. Admission is $11, and discounts are available for students,seniors, and youth. OHS members and Multnomah County residents receive free admission every day.
 ___________________________________________________ [display_audio]
Julia Cho is an American playwright and television writer who has won national awards for her work. She was born in Los Angeles, California, and is the daughter of Korean immigrants. Her plays include The Language Archive, The Piano Teacher, Durango, The Winchester House, BFE, The Architecture of Loss, and 99 Histories. She has been a resident playwright at New Dramatists since 2004. Her work has been produced at the Vineyard Theatre, The Public, South Coast Repertory, Long Wharf Theatre, Playwrights Horizons, New York Theatre Workshop, East West Players, Theatre @ Boston Court, and Silk Road Theatre Project, among others. Honors include the Susan Smith Blackburn Prize, Barrie Stavis Award, the Claire Tow Award for Emerging Artists, and the L. Arnold Weissberger Award. Durango was also named one of the Top 10 Plays of 2006 by Entertainment Weekly and one of the Best of 2007 by the The L.A. Times. She is an alumna of the Juilliard School and NYU's Graduate Dramatic Writing Program.

MediaRites' Theatre Diaspora presents a staged reading of The Language Archive, a poignant comedy about dying languages and difficulties of love by Julia Cho. More info:  http://www.theatrediaspora.org/2016/02/23/the-language-archive/
Cast includes: Tonya Jone Miller (previously in Breaking Glass), Leo Lin, Sofia May-Cuxim, Enrique E. Andrade, Wynee Hu (Theatre Diaspora producing ensemble member), and singer/musician Partfait Bassale (narrating and providing musical accompaniment.)
Staged readings are:
2pm on March 26th at Portland Center Stage (128 NW Eleventh Avenue, Portland, OR 97209) and
2pm on April 2nd at the Milagro Theatre (525 SE Stark Street, Portland, OR 97214).
Tickets are $8 each. They can be purchased at pcs.org for the 2pm March 26th show at Portland Center Stage, and athttp://www.brownpapertickets.com/event/2510978 (service charge added) for the 2pm April 2nd show at the Milagro Theatre.
Podcast: Play in new window | Download