defunkt's The Udmurts
Dmae features defunkt Theatre's world premiere production of The Udmurts by David Zellnik.  The Udmurt people are a diminishing ethnic group in the Udmurt Republic in Russia. The lead character in defunkt's production meets an Udmurt woman and is changed by her friendship.
Not only is defunct bringing this new play to Portland but it's making a long-lasting impact on diversity by hiring an Asian American actor to originate a leading role first intended to be played by a white actor. We'll go backstage with co-artistic director and director Andrew Klaus-Vineyard and actor Samson Syharath about their process working together adapting a romantic leading man role into a character who happens to be Asian American. The Udmurts runs May 13- June 18 2016 at at the Back Door Theater in Portland.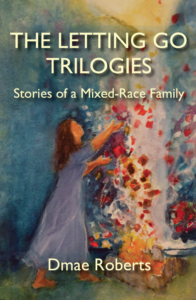 And in the latter part of the show, Dmae will play a personal piece called "Memorial" that she later turned into a a chapter of her new book The Letting Go Trilogies: Stories of a Mixed-Race Family traces which four decades of what it means to be a mixed-race adult who sometimes called herself "Secret Asian Woman."
The memoir is journey through biracial identity, Taiwan, sci-fi, and the trials of her interracial Taiwanese and Oklahoman family amid love, loss and letting go of past regrets and pain. More info: dmaeroberts.com.
Her reading and book signing events are:
May 20th at 6:30pm at Wilson High School (1151 SW Vermont St, Portland, OR 97219) along with a screening of Mei Mei, A Daughter's Song, 2015 award-winning film for the Best Historical Documentary from the Oregon Independent Film Festival.
May 23rd at 7:00pm at Broadway Books (1714 NE Broadway St, Portland, OR 97232) for the official launch of Roberts'
You can hear Stage & Studio on:
Podcast: Play in new window | Download
This show features music by Jesse Holt, composer for The Udmurts and music by Aaron Meyer at AaronMeyer.com. 
_______________________________________________________
defunkt Theatre presents The Udmurts by David Zellnik 
Directed by Andrew Klaus-Vineyard
May 13- June 18 2016
Thursdays – Sundays at 7:30 pm (no show Sunday, May 15)
At The Back Door Theater • 4321 SE Hawthorne Blvd. Portland, OR (enter through the Common Grounds Coffee Shop)
Pay-what-you-can Thursdays & Sundays, Sliding Scale $15- $25 Fridays and Saturdays
Reservations are encouraged as space is limited
For tickets: visit defunktheatre.com or call 503 974 4938
About the show:
Nate, a middle-class kid from Florida who has been thrown away by his fundamentalist parents, finds his way to the ramshackle Queens apartment of Mrs. Huff. She is an older, once-glamorous foreign actress, living in exile from a (real) place called Udmurtia, and her tiny apartment holds the mysterious secrets of a vanishing culture.
Nate is torn between his growing devotion to Mrs. Huff and his desire for Clem, a Manhattan child of the "One Percent" who promises Nate a way out of poverty.  A dark, funny, and suspenseful journey, THE UDMURTS explores how we find home – and hope – in a collapsing world.  This is the WORLD PREMIERE of a script honored as an O'Neill Award Finalist from the award winning playwright of Let A Hundred Flowers Bloom.
Two Special Post Show Events:
Friday, May 13:  Opening night champagne toast with playwright David Zellnik and our 2016-17 Season Announcement!
and
Saturday, June 14: Talkback with defunkt: Join The Defunktionals and our fabulous cast for a lively post show discussion of all things Udmurts.