El Muerto Vagabundo
For its 33rd season Milagro Theatre has chosen the theme home. The season opening show is about people without homes. Join Dmae as she welcomes Milagro Theatre's new producing creative director Roy Arauz and artist-in-residence Georgina Escobar who conceived and directed the season opener El Muerto Vagabundo, an original Day of the Dead play about homelessness. 
(Aired 11am Tues 10/18/16 on KBOO 90.7FM.)
Podcast: Play in new window | Download
Milagro presents its 21st Annual Día de Muertos production, El Muerto Vagabundo. Artist-in-Residence Georgina H. Escobar, the design team, and the ensemble cast worked the past four and a half weeks to create the newest devised play honoring the Día de Muertos tradition that Milagro has celebrated for the past 21 years. The play is meant to hit close to h
ome in Portland, exploring the Day of the Dead through the perspectives of the homeless and the forgotten.
(Production photos:Â Russell J. Young)
 
The Story: It is Day of the Dead in The City of Bridges when The Kid, a near homeless orphan looked after by his older sister, makes an ofrenda (an alter) to summon his parents. What he encounters instead is a vagabundo, a tramp who mistakenly takes the offering for himself. As the kid chases after him, he ends up under a bridge, in a place called The Underworld where the forgotten, the lost and the dispossessed (Los Olvidados) lay down for a night's rest. Offering his innocent insight to each of his new, lonely friends, The Kid insists on building an altar and lighting a candle to honor their dead. The Kid learns the stories of those people who live or hide under bridges —real or fictitious. In this darkly-w
himsical play, we encounter traditions through ritual, song, and good old-fashioned story-telling in a highly theatrical and metaphorical way.
El Muerto Vagabundo
Conceived & Directed by Georgina Escobar
Runs through Nov. 6th.
Thursday – Saturday at 7:30 PM, Sundays at 2 PM.
All shows at Milagro Theatre located at 525 SE Stark Street,Portland, Oregon, 97214
More info and tix at:Â http://milagro.org/event/el-muerto-vagabundo/
Georgina Escobar, is the maker of hyper-sensical, ridiculous, and sometimes impossible narratives that run current systems of thinking through different filters of human logic.  She likes to illustrate, write, paint and compose music and do anything that empowers women and youth. She does this weird thing with speculative evolution comedies, takes a stab at sci-fi feminism, and is obsessed with creating huge, hyper-sensical, modern playgrounds for the stage.
Credits include: SWEEP, (Lincoln Center Director's Lab 2016, LTC Carnaval 2015 at De Paul University, The Brooklyn Generator),The Unbearable Likeness of JONES (Dixon Place), The WAYFOOT Series (In development: INTAR, originally developed at the National Puppetry Conference, 2014), FIREROCK The Musical (Magic Theatre Workshop 2016, The Lensic Concert Version, 2012); ASH TREE (Duke City Repertory, ASSITEJ Festival, Kennedy Center's National TYA Award); THE RUIN (Manhattan Repertory Theatre, Words Afire Festival of New Works, 2011).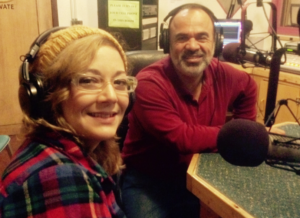 Roy Antonio Arauz worked as a director and producer in Seattle, WA before joining Milagro as Producing Creative Director. He was raised in Costa Rica, where he trained as a dancer in Limón and Graham techniques and was an original member of Danza Libre. He started working in theatre in Washington DC as a performer and choreographer, earning a 1993  Helen Hayes Award Nomination for Outstanding Choreography for Female Hitchhikers (Consenting Adults.) In Seattle he worked as choreographer, stage manager, and director at local theatres such as ArtsWest, Book-It Repertory, Driftwood Players, Latino Theatre Projects, SecondStory Repertory, and Snoqualmie Falls Forest Theatre. He founded and was artistic director of Arouet from 2012-2015, where he produced and directed works that speak to social justice, such as The House of Bernarda Alba and The Temperamentals. In Seattle he was a company member at Theatre9/12, where he was mentored by Charles Waxberg in directing and scene study, and a guest artist with eSe Teatro. He attended the 2015 Lincoln Center Theater Directors Lab and the 2016 Directors Lab West at Pasadena Playhouse. Roy is a steering committee member of the Latino Theatre Commons.