Good With People + Relations Preview
Dmae welcomes Devon Allen, co-artistic director of Our Shoes Are Red/The Performance Lab. She and co-producer Matt DiBiasio are performing a two-person play. In David Harrower's Good With People a woman encounters the man who bullied her son 14 years earlier when they were schoolmates. And then in the latter part of the show, Dmae previews a clip from Crossing East: Relations, her one-hour documentary airing June 6th at 11am about the historic relationship of African Americans and Asian Americans leading up to Black Lives Matter and Asians for Black Lives. This documentary is for the Crossing East Archive Project.
(Aired 11am 5/30/17 on KBOO 90.7FM or always on stagenstudio.com and always on  iTunes)
Podcast: Play in new window | Download
Our Shoes Are Red/The Performance Lab presents…
Good With People
by David Harrower
Synopsis:Â In Helensburgh, Scotland, barbed wire fence separates an idyllic coastal town from the site of its largest employer: Faselane nuclear base. Evan grew up inside, a base kid, while Helen protested at the gates. Years later, under the same roof, they are unable to shut out a savage moment from their past. In this sly, candid play Harrower teases his characters out of their corners and what might have been a chance encounter proves a defining moment.
All shows at 8pm at Performance Works Northwest, 4625 SE 67th Ave, Portland, O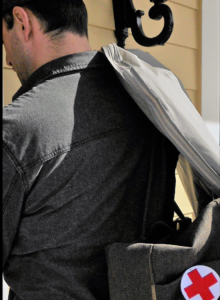 R 97206
Thursday-Sunday, June 8-June 18th.
Thursday-Saturday June 22-24
(PWYW preview Thursday June 8th 8:00 pm, Opening night Friday June 9th 8:00pm)
Tickets: $15.00, students and seniors $10.00. Reservations: Tickets available online (www.ourshoesarered.org) as well and at the door. More info: osarlab@gmail.com or call 971-727-5499
Company:
Cast and artistic producing/directing team :
Devon Allen (Helen) and Matt DiBiasio (Evan)
Jeff Forbes (lighting design)
Phillip Johnson (sound design)
Kristi Bogart (stage direction)
****
Crossing East: Relations is a one-hour documentary special produced by Dmae Roberts, executive producer of MediaRites' Crossing East series with Robynn Takayama and Alan Montecillo. The documentary addresses AAPIs and the Model Minority Myth and the historic relationship between AAPIs and African Americans. As part of a 10th anniversary celebration of the Peabody-winning radio series Crossing East, which aired on 230 public radio stations around the country we've been producing this documentary as well gathering more than 100 hours of oral history recordings for the Crossing East Archive.
Interviews recorded by Crossing East producer Robynn Takayama in the Bay Area include:
nterviews recorded by Crossing East Executive producer Dmae Roberts and Alan Montecillo in Portland in collaboration with APANO's Kara Carmosino. These include