Artists Rep's 7 Plays
Dmae checks in with Dámaso Rodríguez, artistic director of Artists Repertory Theatre about their 2017/18 season. In the last five years since he took the helm of this Equity and LORT theatre, Rodríguez says he has worked to "create an inclusive, diverse and equitable culture at Artists Rep." The shows this season feature diverse playwrights, actors and creative teams. We'll also hear more about their upcoming edgy and likely controversial play An Octoroon by MacArthur Fellow Branden Jacobs-Jenkins and co-directed by Rodríguez and Lava Alapai. The play runs Sept. 3rd through Oct.1st.
(Aired 11am 8/22/17 on KBOO 90.7FM or always on stagenstudio.com and always on  iTunes)
Podcast: Play in new window | Download
More about Dámaso Rodríguez:  In five years as Artistic Director of Artists Repertory Theatre, he has directed the World Premiere musical Cuba Libre by Carlos Lacámara featuring the music of three-time Grammy-nominated band Tiempo Libre; the Portland premieres of Nick Jones' Trevor, David Ives' adaptation of Pierre Corneille's The Liar, Nina Raine's Tribes, Exiles by Carlos Lacámara, U.S. premiere of Dawn King's Foxfinder, West Coast premieres of Jeffrey Hatcher's Ten Chimneys, Dan LeFranc's The Big Meal; and revivals of The Skin of Our Teeth by Thornton Wilder, The Miracle Worker by William Gibson and The Playboy of the Western World by J.M. Synge. Upcoming directing projects are: The Humans by Stephen Karam and Magellanica by E.M. Lewis at Artists Rep; and Romeo & Juliet by William Shakespeare at the Oregon Shakespeare Festival. In 2001 Rodríguez cofounded the LA-based Furious Theatre Company and served as Co-Artistic Director until 2012. From 2007-2010 he was Associate Artistic Director of the Pasadena Playhouse. Directing credits include Artists Rep, Playwrights' Center, the Pasadena Playhouse, Intiman Theatre, South Coast Repertory, Laguna Playhouse, A Noise Within, The Theatre@Boston Court, Naked Angels and Furious Theatre. Rodriguez is a recipient of the LA Drama Critics Circle Award, the Back Stage Garland Award, the NAACP Theatre Award and the Pasadena Arts Council's Gold Crown Award. In 2012, Rodriguez was honored by the Stage Directors and Choreographers Foundation as a Finalist for the Zelda Fichandler Award.  More at:  www.damaso-rodriguez.com/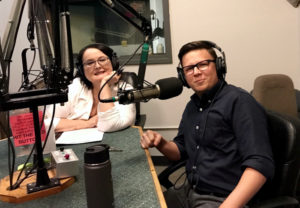 _____________________________________________________________
The New Now Necessary 2017/18 Artists Rep tickets now on sale at: http://www.artistsrep.org/box-office/ Box Office Hours Tuesday – Sunday: Noon – 6pm. Will Call opens 1 hour prior to performance time. Morrison Lobby at 1515 SW Morrison Street Phone: 503.241.1278. Fax: 503.241.8268. Email: boxoffice@artistsrep.org.
Read more about the plays:
AN OCTOROON by Branden Jacobs-Jenkins
Directed by Lava Alapai & Dámaso Rodríguez
SEPT 3 – OCT 1
An Octoroon is a raucously irreverent Gone with the Wind meets Looney Tunes mash-up that The New York Times calls "…this decade's most eloquent theatrical statement on race in America today." Riffing off a 19th Century hit set on a Louisiana plantation, Jacobs-Jenkins offers a brazen, metatheatrical melodrama that playwright Branden Jacobs-Jenkins adapted from Dion Boucicault's The Octoroon, which premiered in 1859. Jacobs-Jenkins reframes Boucicault's play using its original characters and plot, speaking much of Boucicault's dialogue, and critiques its portrayal of race using Brechtian elements.  Jacobs-Jenkins considers An Octoroon and his other works Appropriate and Neighbors linked in the exploration of theatre, genre, and how theatre interacts with questions of identity, along with how these questions (such as "Why do we think of a social issue as something that can be solved?") transform as a part of life.
CAUGHT
October 1 – October 29
Morrison Stage
An installation of visual art and live theatre presented in partnership with The Chújú Gallery/SF and The Geezer Gallery. Caught), presents a sly philosophical puzzle that investigates the murky intersections of fact and fiction in the crafting of art and news. Collaborating artists include playwright Christopher Chen, Dmae Roberts, Chris Harder, Sara Hennessy, Greg Watanabe, Horatio Law, Megan Wilkerson, Sarah Gahagan, Jennifer Lin, Rodolfo Ortega, Mary McDonald-Lewis, Samson Syharath and Shawn Lee.
THE HUMANS
By Stephen Karam

Directed by Dámaso Rodríguez
November 19 – December 17
Morrison Stage
The Humans is a play about a small family dinner that made big waves on Broadway. Enclosed in a basement apartment, a middle-class family gathers to christen Brigid and Richard's new digs with a fancy Thanksgiving dinner on paper plates and undertake their holiday ritual of smashing the peppermint pig.
MAGELLANICA
By E.M. Lewis
Directed by Dámaso Rodríguez
January 20 – February 18
Morrison StageIn 1985, scientists and engineers from around the world converge at the South Pole Research Station to figure out, among other things, if there really is a hole in the sky. In the darkest, coldest, most dangerous place on Earth, eight imperfect souls are trapped together. Utterly isolated from the outside world for eight and a half months, this research team must face life or death challenges, their own inner demons and depend upon each other for survival.
BETWEEN RIVERSIDE AND CRAZY
By Stephen Adly Guirgis
Directed by Adriana Baer

March 4 – April 1
Alder Stage
Meet Walter "Pops" Washington, retired after 30 years from the NYPD after being shot by a white, rookie cop. Holding court from his recently deceased wife's wheelchair over a motley crew of housemates, he righteously, tenaciously, holds out for a police department settlement until an ecstatic experience shakes him from inaction.
THE THANKSGIVING PLAY
By Larissa FastHorse
Directed by Luan Schooler

April 1 – April 29
Morrison Stage
A group of mismatched teachers and actors have been charged by the school district to devise an ethnically sensitive play to somehow celebrate both Thanksgiving and Native American Heritage Month. In order to be as respectful and accurate as possible, the three white actors defer to the only Native American in the room for guidance and find their expectations of her insights are wildly misguided.
I AND YOU
By Lauren Gunderson
Directed by JoAnn Johnson
May 20 – June 17

Morrison Stage
Two teens – a sick and snarky girl who hates poetry, and a sweet and sporty boy who just wants to get his class work project done – are thrust together to work on a school project about Walt Whitman's poems. Like boxers in a ring, the mismatched pair spar their way through Whitman's epic Song of Myself into an uneasy friendship.