Hosts Show
Join Dmae Roberts for a lively and in-depth talk about the performing arts in Portland with two of its finest theatre artists, Susannah Mars and James Dixon. Both have been guest hosting on Stage & Studio throughout the year and most recently along with Sarika Mehta of Intersections Radio have filled in for Dmae during her two-month stint as an actor at Artists Repertory Theatre. We'll talk about current trends and new visions for Portland's artistic future. And we'll find out what they're excited about seeing and covering in the next few months and 2018.
(Aired 11am 11/14/17 on KBOO 90.7 FM or always on stagenstudio.com and always on  iTunes)
Podcast: Play in new window | Download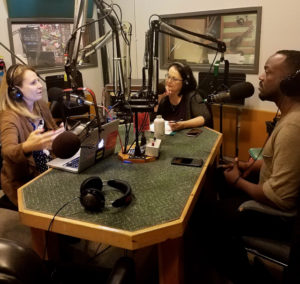 More about the artists/hosts:
Susannah Mars is a Resident Artist at Artists Repertory Theatre where she has performed in 12 productions including her new role as Music Events Specialist. She's been a member of the Portland theatre scene since moving here from Los Angeles in 1988. There she worked as a young professional performer ,and taught 3rd grade in South Central Los Angeles until she had the realization that acting was a pretty good gig.
She is also a recording artist, and her most recent recording "Susannah Mars, Call It Home; The Music of Richard Gray" is available, along with her first, the MAC nominated "Take Me To The World," on LML Music on iTunes. She hosts/produces the podcast Adventures In Artslandia. More about Susannah at www.susannanhmars.com.
James Dixon is a local singer and actor originally from North Carolina. After nearly 10 years of travel to over 32 states and 7 countries, he decided to make Portland his home. James enjoys dialect work, sci-fi, social justice activism, and is always a sucker for a good musical. He is an active company member at Theatre Vertigo. Most recently seen in "The Melody Lingers On" at Clackamas Repertory Theatre. was the Earthworm in James and the Giant Peach with Oregon Children's Theatre. Other past favorite credits include "On The Edge: Trifles and Dutchman" at Defunkt Theatre, "A Maze" at Theatre Vertigo, "James and the Giant Peach" with Oregon Children's Theatre, "Equus" with Post5 Theatre and "Parade" at Staged! Theater.