Margaret Cho is Back
Dmae and Susannah Mars of Artslandia talk with actress, comedienne and activist Margaret Cho. She's back in Portland and headlining at the Helium Club on Thurs., Aug. 30th at 8 p.m., Fri., Aug. 31st and Sat., Sept.1st at 7:30 & 10 p.m. and Sun., Sept. 2nd at 7:30p.m. Find out more at margaretcho.com.  We'll ask her about her "Fresh Off The Bloat" tour, what it's like to do comedy since the 2016 and her new ventures into the beauty industry for Asian women. And we'll catch up with Susannah and Dmae.
(Aired 11am 8/12/18 on KBOO 90.7 FM or always on stagenstudio.com and always on  iTunes)
Podcast: Play in new window | Download
More about Margaret Cho:
Hailed by the New York Times as "Brilliant," Margaret Cho is a force to be reckoned with! Her Notorious C.H.O. Tour in 2001 culminated in a sold-out concert at Carnegie Hall. Margaret embarked on her third sold-out national tour "Revolution" in 2003. Margaret's work includes her own sitcom "All-American Girl," her own reality TV series "The Cho Show," and the starring role in the long running Lifetime show, "Drop Dead Diva." Also a talented musician, in 2016 Cho released her latest studio album, "American Myth."
This show is 21+. Please note, there is a 2 item minimum in the showroom. Tickets will be available for pick up at the box office prior to the show (they are generally available 1.5-2 hrs prior to showtime
BIO: Margaret Cho is an American stand-up comedian, actress, fashion designer, author, and singer-songwriter. Cho is best known for her stand-up routines, through which she critiques social and political problems, especially regarding race and sexuality. She rose to prominence after creating and starring in the ABC sitcom All-American Girl (1994–95), and became an established stand-up comic in the subsequent years.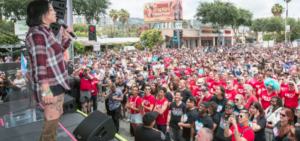 She has also had endeavors in fashion and music, and has her own clothing line. Cho has also frequently supported LGBTQI rights and has won awards for her humanitarian efforts on behalf of women, Asian Americans, and the LGBTQI community.
As an actress, she has acted in such roles as Charlene Lee in It's My Party and John Travolta's FBI colleague in the action movie Face/Off. Cho was part of the cast of the TV series Drop Dead Diva on Lifetime Television, in which she appeared as Teri Lee, a paralegal assistant. In 2012 she was nominated for an Emmy Award for her guest starring role as Dictator Kim Jong-il on 30 Rock.