Corrib & Vertigo
Dmae features two all-female theatre productions opening on the same weekend. We talk with actress Sara Hennessy in How to Keep an Alien at Corrib Theatre and director Jocelyn Seid of A Dark Sky Full of Stars at Theatre Vertigo.  Plus we'll offer tickets to both productions for KBOO's membership drive.
(Aired 11am 4/9/19 on KBOO 90.7 FM or always on stagenstudio.com and always on  iTunes)
Podcast: Play in new window | Download
Corrib Theatre presents the U.S. West Coast Premiere of
HOW TO KEEP AN ALIEN
By Sonya Kelly
Directed by Gemma Whelan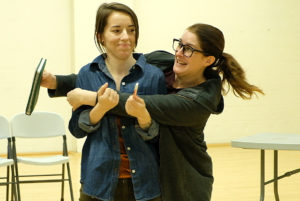 The show opens April 12 at 7:30pm through May 5, 2019
Thursdays-Saturdays @ 7:30pm; Sundays @ 2pm
All shows at: New Expressive Works, 810 SE Belmont St., Portland
RUNTIME: Approximately 90 minutes
TICKETS: $25 regular price; $20 student/group
Discounts for Work for Art and Chinook Book, and participates in Arts for All
Brown Paper Tickets: 800-838-3006; https://howtokeepanalien.brownpapertickets.com
More info: https://corribtheatre.org/
AUDIENCE ENRICHMENT EVENTS:
Thursday, April 11 @ 7:30pm: Pay What You Can Preview
Friday, April 12 @ 7:30pm: Opening Night Reception
Sunday, April 14 @ 2pm: All Ireland Cultural Society with Irish baked goods, followed by a post-show talkback
Friday, April 26 @ 7:30pm: Audio Described Performance
Saturday, April 27 @ 7:30pm: ASL Interpreted Performance, followed by ASL Interpreted post-show talkback
The Story: Irish Sonya and Australian Kate meet and fall in love, while working on a Russian play with English accents in an Irish castle. Together, they embark on a global odyssey to prove that they have a right to live together in Ireland. How to Keep an Alien is a tender and hilarious story attesting to the perils and obstacles of emigration, and the transformation that Irish society has undergone in recent times. This is a story about falling in love and proving it to the government.
CAST: Sara Hennessy (Sonya Kelly), Amy Katrina Bryan (as herself, the stage manager)
CREATIVE TEAM: Amy Katrina Bryan (Stage Manager/Production Manager, Actor), Trevor Sargent (Set and Light Design), Summer Olsson (Costume Design), Phillip Johnson (Sound Design), Chanell Magee (Props Design)
_______
Theatre Vertigo Presents A World Premiere
A Dark Sky Full of Stars by Don Zolidis
Directed by Jocelyn Seid
DATES: Thursday, April 11th- Saturday, May 12th Thursdays-Saturdays at 7:30pm Sundays at 2:00pm **Industry Night Monday May 6th, 7:30pm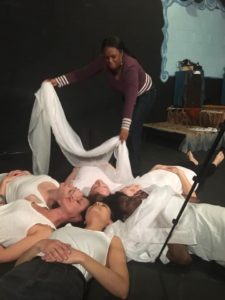 TICKETS VENUE/RESERVATIONS: General Admission $20; Shoebox Theatre www.theatrevertigo.org Students (with valid ID) & Seniors (65+): $10 2110 SE 10th Ave. (503) 482-8655 $5 Arts for All Tickets Available at the Door Only Portland, OR 97214 tickets@theatrevertigo.org
ABOUT THE SHOW: Workshopped at the Ashland New Plays Festival in 2017, this play tells the story of a young man, Brandon, who is always in and out of trouble. When he is shot in the back by a member of his community, we see the perspectives of his family, friends, and girlfriend. They learn the circumstances of a young American man's life and how seemingly unrelated events culminate in cutting it short.
A cast of six diverse women bring to life the story of what we do when someone is lost violently and unexpectedly. Five of the women in our cast are making their Theatre Vertigo debut with this production and Jocelyn Seid returns after her performance in the 2016-17 Season A Maze by Rob Handel.
CAST:  JULET LINDO, DRE SLAMAN, MCKENNA TWEDT, KAYLA HANSON, THERESA PARK and  ADRIANA GANTZER
DESIGN: Director- Jocelyn Seid Movement Director/Assistant Director- Clara-Liis Hillier, Set/Props Designer- Kyra Bishop Sanford Costume Designer/Production Manger- Kaia Maarja Hillier Lighting Designer- Kelly Terry