A Certain Age
Dmae talks with JoAnn Johnson and Jane Bement Geesman, two of Portland's respected veteran actresses who are working together in Caryl Churchill's Escaped Alone at Shaking The Tree Theatre directed by Samantha Van de Merwe. The two are joined onstage by Jacklyn Maddox and Lorraine Bahr in a one-hour production that has been getting rave reviews. We'll hear about the show and also reflect on what it means to be an actress of a certain age these days and how theater can provide better opportunities and conditions.
(Aired 11am 5/21/19 on KBOO 90.7 FM or always on stagenstudio.com and always on  iTunes)
Podcast: Play in new window | Download
Caryl Churchill's Escaped Alone is a play that combines neighbourly chit-chat with visions of apocalyptic horror. It was first performed in the Royal Court Jerwood Theatre Downstairs, London, in 2016. This venerated writer's latest work reaffirms such tales' power to warm us even as they warn of the unspeakable dangers in the wide, dark world beyond.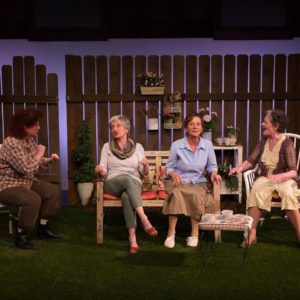 Escaped Alone by Caryl Churchill
Directed by Samantha Van Der Merwe

Performances runs through June 1st 2019,
Thursday through Sunday evenings at 7:30pm
All shows at:Shaking The Tree Theatre,
823 SE Grant St, Portland OR 97214
Box-office phone:Â Â Â  503.235.0635
Email:Â Â Â Â Â Â Â Â Â Â Â Â Â Â  Â Â Â  tickets@shaking-the-tree.com
More info: Â Â Â  Â Â Â Â Â Â Â Â  www.shaking-the-tree.com
Ticket Prices:
$30 General Admission/ $25 Seniors /$10 Students /$10 Youth (21 and under)
 
*Shaking the Tree is committed to making the show accessible to anyone who wants to attend regardless of cost. Please contact our box-office to find out more.*
Cast
Sally:Â Â Â Â Â Â Â Â Â  Jane Bement Geesman
Vi:Â Â Â Â Â Â Â Â Â Â Â Â Â  JoAnn Johnson
Lena:Â Â Â Â Â Â Â Â Â  Lorraine Bahr
Mrs Jarrett: Jacklyn Maddux
Creative
Scenic Design:Â Â Â Â Â Â Samantha Van Der Merwe
Costume Design:Â Â Â Â  Elyse Grimaldi
Lighting Design:Â Â Â Â Trevor Sargent
Sound Design:Â Â Â Â Â Â Â Matt Wiens
Stage Manager:Â Â Â Â Â  Natasha Stockem
Technical Director:Â Ted Gold
​Master Carpenter:   William Gebo
About Shaking the Tree Theatre
Named one of Portland's best and most daring theatre companies, Shaking the Tree melds the boundaries of theatre and visual art by presenting audiences with unconventional theatrical experiences in our non-traditional warehouse. Founded in 2003, Shaking the Tree uses innovative ways to inhabit space, and positions itself at the intersection of innovation, activism and groundbreaking theatricality to allow audiences to experience a deeper, more active connection to the work.