OUTwright of Color
Dmae features two LGBTQIA+ productions at the annual OUTWright Festival produced by Fuse Theatre Ensemble. We talk with James Dixon, director of Bootycandy which receives its full production June 13-30 and Jennifer Lanier, co-artistic director of Ops Fest  (Original Practice Shakespeare) which is presenting The Tragedie of Othello on June 23 at 2pm. All shows and readings of OUTWright Festival are at The Interstate Firehouse Cultural Center this year. More info at about the full festival at FuseTheatreEnsemble.com. We also talk about what are some improvements and best practices for Portland theatre to be more inclusive and give more opportunities to LGBTQIA+ theatre artists of color. 
(Aired 11am 6/11/19 on KBOO 90.7 FM or always on stagenstudio.com and always on  iTunes)
Podcast: Play in new window | Download
Featured music: David Ornette Cherry at http://www.davidornettecherry.com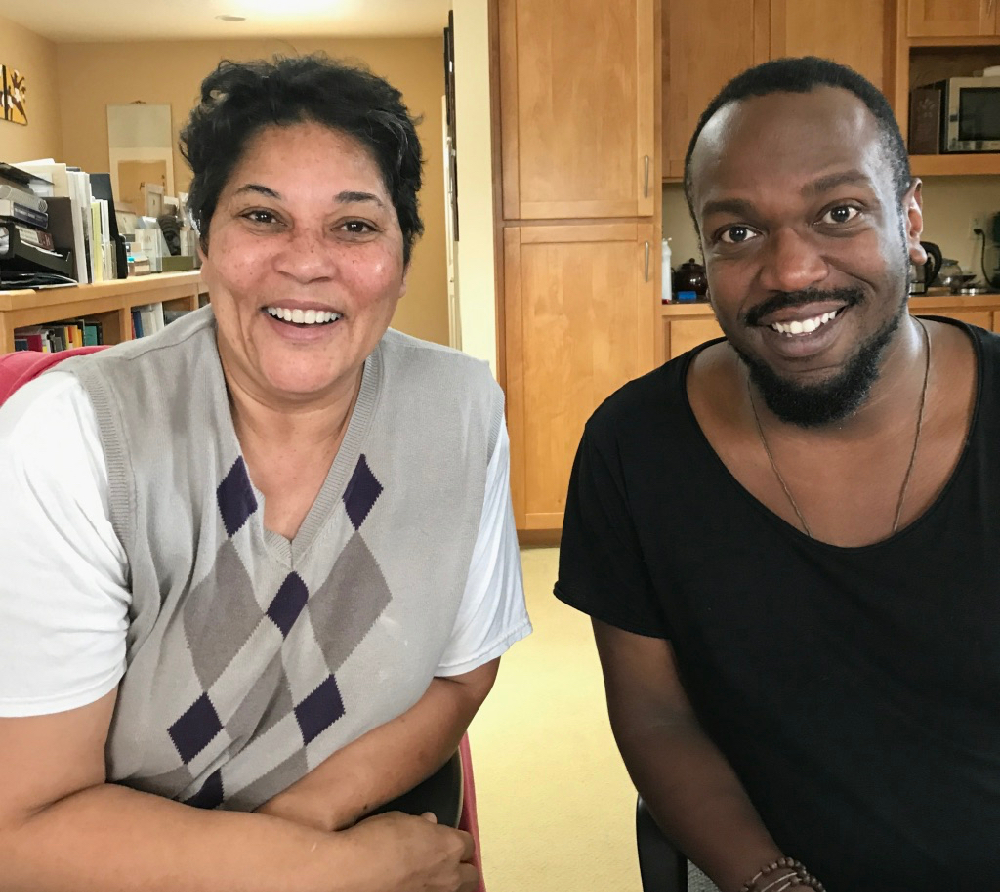 More about OUTwright 2019Â  -Â The Interstate Firehouse and Cultural Center.:
Feature Production:
Bootycandy, a comedic and hard-hitting romp  about queer people of color by queer people of color focusing stories through the lens of Sutter, a gay black man. A collage of vignettes, Bootycandy puts away tragic queer tropes and sappy queer drama at the door and according to OUTwright, "the only tears you'll be shedding will be from laughing until you cry."
CONTENT WARNING: Mature audiences only. Sexual content. Discussions of rape. Nudity.
Directed by James Dixon
Assistant Directed by Devon Roberts
Stage Managed by Kenneth Dembo
Set design by Tyler Buswell
Costume design by Morgan Meister
Lighting and props designed by Rusty Tennant
Graphics by Alec Lugo
Featuring performances by Charles Grant, Shareen Jacobs, Gerrin Delane Mitchell, Shani Harris-Bagwell, and John Corr
About The Tragedie of Othello: OPSFest is back with their gender-bent interpretations of Shakespeare's classics, this time centering queer people of color. Advocate Magazine's Champion of Pride, Jennifer Lanier, stars in the title role.  FREE Admission. Donations accepted. More info: Ops Fest at OpsFest.org.
WORKSHOP:
The Pursuit of Happiness, a new musical by Ernie Lijoi and directed by Rusty Tennant.
Starring: Essie Canty Bertain, Michael Chavez, Kate Fay Cummings, Ernie Lijoi, Alec Lugo, Sara Nightingale
June 25 & 26 @ 7pm. $10 @ door, GA Arts for All
The Pursuit of Happiness: Ernie Lijoi (Under the Influence, Drammy Award '17) is back with his newest musical and this one takes "meta" to a whole new level. Six actors, some gods, a dedicated stage manager and a playwright who may or may not like to get a little high populate this tale about what it it takes to find happiness in our ever-confusing world.
READING:
The Temperamentals by Jon Marans and directed by Roy Arauz. Starring: James Dixon, Justin CharlesPaul Bright, Samson Syharath, Johnnie Torres
June 22 ONLY at 2pm. Donations accepted
About The Temperamentals: A mainly POC cast tells the story of how Harry Hay and his love interest, Rudy, helped found the Mattachine Society. Come hear this personal story of love and collective politics and learn a little more about the origins of The Radical Fairies.
Other highlights:Â 
The Tarot Show by Kate Mura, Oct. 16 at 2pm.  What happens when I give a tarot reading to an entire audience? Come find out.
Plot Points in our Sexual Development by Miranda Rose Hall, June 29-30. Cicely is a cis-woman; Theo is a trans-masculine genderqueer. They are trying to work through a difficult time in the sexual relationship. This finalist for the Lambda Award in Drama will open your eyes and your hearts and have you walking out of the theatre talking about what happens next.