Otherness: Togetherness 
Dmae talks with Michelle Fujii of Unit Souzou via Skype. It's been a weekend for arts organizations after Gov. Browns announcement about closing gatherings of 250 or more because of Covid-19. Many smaller arts groups have debated if their show could go own even with smaller houses. Unit Souzou decided to stream their weekend of shows into one show on Sat March 21st at 7pm on LiveStream.com.  Otherness: Togetherness features Horatio Law, visual installation artist; Joe Kye, violinist-looper, and Unit Souzou taiko ensemble – coming together to share stories grappling with ideas of identity, home, otherness. The program also combats recent xenophobia, racism and assaults against Asian Americans as scapegoats for our country's current health crisis.
Podcast: Play in new window | Download
(Airs 11am  3/17/2020 on KBOO 90.7 FM or always on stagenstudio.com and always on  iTunes.)
Otherness: Togetherness – A LIVE STREAMING EVENT
Saturday, March 21st 7:00 pm Pacific Time
https://livestream.com/unitsouzou/togetherness
Free admission, Donations of $10-30 appreciated
Unit Souzou ensemble will come together for the first time with installation artist Horatio Law and violinist-looper, Joe Kye in Otherness: Togetherness, a celebratory showcase of these Asian American artists. The program will highlight each artists distinct voice and creative approach, and will also show commonalities amongst their experiences of identity, longing, otherness, displacement – melding together into a cohesive art experience. Additionally, as the current global pandemic ensues, the artists are committed to creating a brave and inclusive space for the program that will be engaging and relevant, building on artistic strengths and also pushing creative boundaries.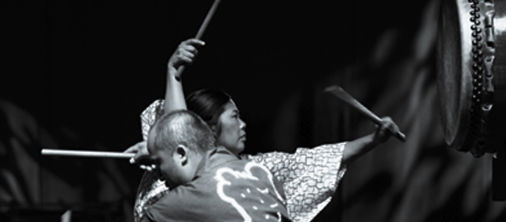 The themes in Otherness: Togetherness are timely. When forces seem to be pulling communities apart, dividing us through racism, xenophobia, classism and so many other -isms, these artists are creating work that bridges and engages audiences to grapple with all of our inner struggles to be both human and humane. Especially during this moment in time – the uncertainty of public health, politics, climate, and the economy – being in community can combat the loneliness and despair of isolation.
The program is intended to uplift three ambitious artistic innovators whose approach navigate both historical and contemporary cultural lenses. Bringing their own styles and excerpts from other projects including Unit Souzou's new work The Constant State of Otherness and Horatio Law's Tale of Two Ghettoes – the show will be a dynamic and interactive give and take between the artists in an intimate staging at the two studios of New Expressive Works in SE Portland.