Reinvention – Laura Lo Forti of Vanport Mosaic
Dmae talks with Laura Lo Forti, co-director of Vanport Mosaic who took on the challenge of reinventing a month-long festival of live events in Portland into a virtual one online. Through May 30th, The Virtual Vanport Mosaic Festival features poets, storytellers, dancers, actors and musicians. We'll talk with Laura about how she took on this challenge that involves artists, film and video experts, and social media engagement to create a sense of community and support for the arts. See the whole schedule of events at VanportMosaic.org.
All the shows will be streamed on Facebook Live at:Â https://www.facebook.com/VanportMosaic.
(Aired 11am  5/12/2020 on KBOO 90.7 FM or always on stagenstudio.com and iTunes.)
Featured music is Aaron Spriggs and Vanport the Musical.
Podcast: Play in new window | Download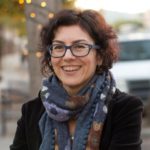 For the past five years under the leadership of co-directors/founders Damaris Webb and Laura Lo Forti, the Vanport Mosaic Festival has engaged hundreds of people in extremely rich programming of memory activism opportunities over a two-week period. Through oral history screenings, live storytelling, poetry, music and theater performances, tours, art exhibits and dialogues, we have amplified the personal experience of individuals and communities impacted by the long-endured inequalities across American economic, social, and civic systems.
For a taste of this beautiful and collaborative exploration of silenced histories, and collective celebration of community strength and resilience, we invite you to watch the short documentaries: Legacy of A Forgotten City – The Vanport Mosaic Festival 2017: https://vimeo.com/254799611 And A Call For Memory Activism: The Vanport Mosaic Festival 2018 https://vimeo.com/304067047
PROGRAMMING HIGHLIGHTS – See full schedule at VanportMosaic.org.
●  See Her Strength by Samson Syharath for The —Ism Project written and performed by Samson Syharath follows a gay Laotian man who honors his refugee mother's strength while worrying about her from far away amid a COVID-19 lockdown. Panelists: Coi Vu, director of IRCO's Asian Family Center and Samson Syharath will lead a conversation about COIVID-19 racism. May 16th atat 6pm-6:45pm. More at MediaRites.org.
●  Harvest by Dmae Roberts for MediaRites' The —Ism Project. Performed by Jane Vogel – rewritten to address the return of exclusion and yellow peril fear amid COVID-19 pandemic fears. The piece details four generations of an Asian American reflects on family history with Oregon's exclusion laws.  May 23rd at 6pm-6:45pm. More at MediaRites.org.
●  More DeVotedly: Michelle Fuji talks with Douglas Detrick about her "Otherness: Togetherness" taiko project. May 15th at 6pm.
●  ConfluenceStoryGathering, astory-drivendiscussiontoelevateindigenousvoices
●  Heart-Beats and Symphonies: how music keeps us going when time stops: a live streaming conversation among international artists, facilitated by Donovan Smith
●  (Un)Belonging – an online multimedia exhibit by Sabina Haque – May 21st at 6pm.
●  Poetry: Aaron Spriggs, May 12th at 6pm.
●  How long does it take to be an American? – a conversation between Sankar Raman/The Immigrant Story and Ramiza Koya, the author of The Royal Abduls – May 17th at 5pm.
● Vanport Day of Remembrance – On the 72nd anniversary of the 1948 Vanport Flood join us for "Lost City, Living Memories: Vanport Through The Voice of Its Residents'"/screening; "Vanport, The Musical" /performance; "Vanport; The Miracle City"/presentation and more artistic and educational tributes  -May 30th – 11:30am-3:30pm.