Shalanda Sims
Dmae presents a feature conversation with Shalanda Sims, actress, writer, director and founder/artistic director of World Stage Theatre. We'll hear about their new film "Growing Up Black in Oregon: A Conversation" and about the work she's doing as an essayist and artistic leader in Portland. Find out what Portland theatre could do better in supporting Black theatre locally.
(Airs 11am  6/9/2020 on KBOO 90.7 FM or always on stagenstudio.com and iTunes.)
Podcast: Play in new window | Download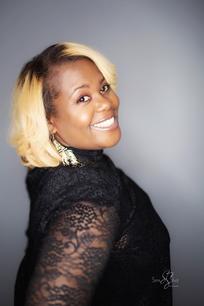 Shalanda Sims is  the founder and artistic director of World Stage Theatre, a multi-cultural, intergenerational arts organization with a focus on history, literature, music, traditional and original works providing exploration, experience, and exposure to underserved youth interested in the performing arts while providing culturally relevant, live performances and arts education for the community.
As an actress her favorite roles include Some of her cherished roles include Dorothy in The Wiz, Velma in Crowns, Molly/MouseTrap, The Woman In Yellow/For Colored Girls Who Have Considered Suicide When The Rainbow Is Enuf.
Shalanda has written several plays including Who I Am Celebrating Me (which, in 2018, expanded into Black History Festival NW), Vanport, Church Girls, Full-Time Woman, Too Good To Be True as well as plays for children.
In August 2017 she released her first children's book, Night Rhythms, part of the Hooded Quilt series. Read her essay blog Full Time Woman  and her essay You Don't Get To Tell Me How To Feel.
"Growing Up Black in Oregon: A Conversation" was written and directed by Shalanda Sims, artistic director and founder of World Stage Theatre. Edited by Syairah Sims. Audio production by Zaysims. Langston Hughes' Let America Be America Again read by Renee Watson.
World Stage Theatre, a multidisciplinary arts organization, created a film and a conversation with local youth and young adults on their experience growing up Black in Oregon. They explore the joys of being human as well as the trauma of being judged by the color of their skin. This film and conversation debuted on the Virtual Vanport Mosaic Festival.  This film is part of an on-going conversation.
See the entire film: "Growing Up Black in Oregon: A Conversation."  on YouTube at: https://youtu.be/b3dSlMjCSzY Or see the entire film and the public conversation  led by Shalanda Sims on World Stage Theatre's Facebook page.