Hanako Wakatsuki-Chong
Hanako Wakatsuki-Chong was recently appointed the new executive director of the Japanese American Museum of Oregon (JAMO). She speaks with Jenna Yokoyama on Stage and Studio about her personal and professional background in preserving Japanese American history as well as her ideas for the museum's community-driven future.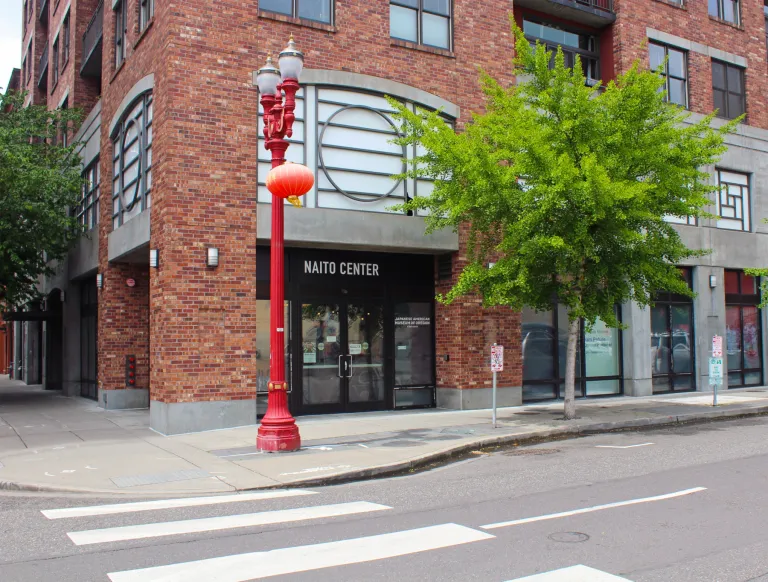 In this episode, hear Wakatsuki-Chong on why she is drawn to preserving Japanese American history …
"…my family was incarcerated during World War II… and our family and didn't really speak much about the incarceration. And so as an adult… as I learned more about my history, I realized my family didn't really talk much about it. I also wasn't raised within a Japanese American community. So this is an opportunity for me to explore my Japanese American identity, learn more about my family history, but also to honor my ancestors by preserving these cultural heritage sites that kind of influenced the Nikkei community."
on the importance of the museum's physical location in Old Town Portland …
"It's in one aspect a power place here in Old Town Portland, because we're occupying space as Japanese Americans. … There's not many structures that exist, that were actually Japanese owned businesses that are left in Japantown. … So there's that power of place of just occupying the space itself to be like, "remember." But then as kind of a collective Nikkei community space to then remember our history and culture and our heritage… " 
About the Japanese American Museum of Oregon
The Japanese American Museum of Oregon has been preserving local Japanese American History since it first opened its doors in 2004. The museum is charged with preserving and sharing the history and culture of the Nikkei community—Japanese emigrants and their descendants. Formerly known as the Oregon Nikkei Legacy Center, JAMO is a venue for culture and research as well as a resource for exploring Nikkei experiences and their role in Oregon's multicultural community. Their permanent exhibit space highlights Issei immigration and early life in Oregon, Nihonmachi (Japantown), and the experience during World War II through Nikkei life today.
About Hanako Wakatsuki-Chong
Hanako Wakatsuki-Chong is a professionally trained public historian, political scientist, and museologist. She serves as an adjunct faculty member at Johns Hopkins University at the Krieger School of Arts and Sciences Museum Studies and Cultural Heritage Management Programs. Before joining JAMO, she was the first superintendent of the Hono'uli'uli National Historic Site in Honolulu and also served on special detail as the acting chief of interpretation for the Pearl Harbor National Memorial. In 2022, she was selected to work on a six-month detail in the Office of the Chief of Staff at the White House, serving as the AANHPI policy advisor to the deputy assistant to the president on issues and initiatives affecting the AANHPI community.