The White Snake
If you've never been to the Oregon Shakespeare Festival in Ashland, Oregon, this is the year for you to go. OSF's The White Snake offers a magical and gently compelling love story that both moves and captivates the very heart of what makes us human. While it's a love story between a supernatural spirit and a human, it's also about power of true friendship between the two spirits who stand by each other through time.
(Listen to the radio interview with OSF actors.)
The White Snake is emotionally and visually stunning with fine acting and wondrous projections and lighting effects. The tight-knit skilled ensemble of actors, deftly move through technically challenging scene changes. The stunning beauty of the production and the play's ultimate message of love leaves the audience breathless while at same time rising for a standing ovation. It's a play the whole family would enjoy.
Created through rehearsals with a mostly Asian American cast, this production honors an age-old story even Asian Americans might not know. Though I've read many Chinese legends about Kuan Yin, the Asian bodhisattva of mercy and compassion (who plays a small part in this play), I wasn't familiar with the legend of The White Snake.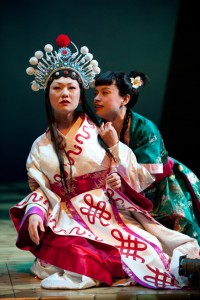 Many versions have been told and retold through several centuries including books, Chinese operas, even an American opera, as well as countless films and television shows. Not an oral tradition folktale or fable, The White Snake is a legend that exists in a very real place much like King Arthur's Camelot is set in particular locations in England. There is an actual Broken Bridge on the West Lake in Hangzhou in the Eastern province of China that tour groups visit along with the Leifeng Pagoda. Both these spots figure prominently in the legend.
In OSF's version, White Snake (played by Amy Kim Waschke) travels down from her a mountain and befriends another spirit named Green Snake (played by Tanya McBride). They both decide to take human form to learn more about what it means to be human. They meet a young pharmacist's assistant, Xu Xian (played by Christopher Livingston). White Snake falls in love and decides to stay in human form so she can wed Xu Xian. She then sets up a pharmacy business that becomes quite successful. So much so that a jealous monk, Fa Hai, (played by Jack Willis) decides to split up the couple. After all, it's unnatural for a spirit and human to marry. Death, resurrection and a tremendous water battle ensue and play out beautifully onstage.
Director and adapter Mary Zimmerman comes with an award-winning track record of creating new work about myths and legends in collaboration with actors, musicians and designers. Several scenes moved me to tears. It was inspiring for me to see so many Asian actors on the OSF stage, though I can't help thinking how historic it would have been to have an entire Asian cast. This season does have the most Asian American actors in the company, about 16 percent according to OSF. But at OSF non-traditional casting also means Asian roles will go to non-Asians.
I confess it took me 15 minutes into the 90-minute show before I could fully enjoy the beauty of The White Snake. I had to let go of the dread that it would somehow be littered with stereotypes as so many cultural stories often become when presented to a mainstream audience. Thankfully there were no Chinese accents or caricatures.  Instead, I found The White Snake to be the opposite…it wasn't quite Chinese.
I believe the intent was to create universality for a non-Asian audience. The costuming was beautiful, with some Japanese and Korean influences, and the Chinese stick rod puppetry was reimagined for this production. But the script segued from pure poetry to lines geared toward Americanisms and easy laughs like the anti-vegetarian innuendos. Most of these lines came from the two-dimensionally evil Fa Hai. The character leaned toward American Western cattle baron with declarations like 'this is Buddha's Country' and shouting the usually holy  'Amitabha Buddha' (which means "infinite light") as a swear word. Fa Hai in legend has been presented as a king or sorcerer but eventually the character changed to monk, a character that led many Buddhist monks to distance themselves from this version.
After 15 minutes, I let go of my wish to hear correct Chinese pronunciations with tones. Perhaps that was another attempt to appeal to a non-Asian audience. This is a small detail that perhaps only those who speak Chinese would catch. But it seemed a missed opportunity to play with the tonal beauty of the language. Another omission for me was the lack of Chinese opera movement for some of the choreographed segments. Again, it's a detail in a play filled so many exquisite details that would have perfected this production.  Non-Asian audiences probably wouldn't notice. But when The White Snake moves to Berkeley Repertory Theatre in November, chances are there will be more people in the audience who will wonder about some of those touches of authenticity.
Yet one cannot deny the power of the production, and I urge you to book your tickets to The White Snake before it closes in July. There are so few Asian plays being done now, and this re-imagining of a beloved legend will live in memory for those who have the good fortune to see it.
For more info, visit OSFAshland.org.
Links:
This article is also  available on newstands for The Asian Reporter and online at their site. 
More info on The White Snake:
http://en.wikipedia.org/wiki/Legend_of_the_White_Snake
http://www.osfashland.org/browse/production.aspx?prod=236