Horatio Law & Open Circles
How do you bring together widely different communities through an art-making project? Hear some insights with artist Horatio Law and his Open Circles project. Law is working with communities at Sisters of the Road and Planned Parenthood to create a public installation that will get people thinking and talking about social currency and self-empowerment.
Horatio Hung-Yan Law is a public art and installation artist who is interested in creating collaborative installations with diverse communities, and in exploring how art activates the complex and dynamic relationship between individual and community. As artist-in-resident, he has created installations with Multnomah County Health Department, South Waterfront Development, and families with children adopted from China. He's now working on public art projects with the Oregon State Hospital, Seattle Public Utility % for Art in South Park, and Tri-Met's Portland-Milwaukie Light Rail Line. He is also an assistant professor at the Pacific Northwest College of Art.
Podcast: Play in new window | Download
We'll also hear from Lucilene Lira, Leadership Program Coordinator for Sisters Of The Road:  Created and coordinated by artist Horatio Hung-Yan Law, in collaboration with artist Sandy Sampson, the Open Circles project began in early September. Over the following month, Sisters community members painted 60 plates with unique new urban hobo sign decals.  Designed, re-glazed and decorated, the New Urban (Hobo) Signs plates update the hobo signs from the Depression Era, reflecting the experiences of people who are homeless in our city today. The plates captured the imagination of everyone who participated.
And we'll hear about the impact on the project at Planned Parenthood from Susanne Hashim, VP for External Affiars: Open Circles Project Bird's Nest Building Workshops at Planned Parenthood Columbia Willamette (PPCW) on MLK.  To raise awareness around and about Planned Parenthood—the project points out that "Birds make their nests only when they are ready to start a family."—members of the public are welcome to make nests and decorate them with unique materials that reflect one's thoughts about home and family. Both the difficult issues and the joy of nurturing a family are equal parts of the reality the project is attempting to explore. The nests will become part of the "Open Circles Project" Installation at Place Gallery, Pioneer Place Mall in November.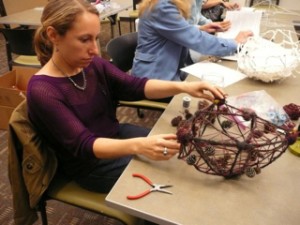 Events for public installation: Open Circles collaborative, community art project, opens Saturday, November 17th at the Place Black Gallery. The opening reception will be held 5:00 to 9:00 pm, and will feature artists who participated in the Open Circles project. There will be a second reception December 15th from 5-9 pm.
'Making Change' is a year-long series funded by the Regional Arts and Culture Council and individual donors including June Arima & John Schumann Fund of the Equity Foundation.
'Making Change' is a series about the intersection of creativity and social change. These features and specials have been airing throughout the year. Find out how you can support 'Making Change.'
You can hear Stage & Studio on: