Scott Carrier, Writer & Radio Veteran
Hear about the work of Peabody-winning radio producer and writer, Scott Carrier. Based in Salt Lake City, Utah, Carrier has produced documentaries that have been heard on nearly every major public radio show including This American Life. His stories have been published by Harpers, Mother Jones, Esquire and Rolling stone and is the author of two published books–his newest is Prisoner of Zion published by Counterpoint Press due out in April. Carrier's radio work is known for it's compelling personal narrative and exquisite sound. Hear one of his popular pieces Running After Antelope and find out about his newest book.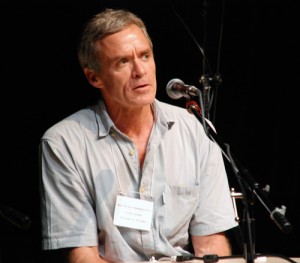 Podcast: Play in new window | Download
For nearly 30 years, Scott Carrier has produced thought-provoking personal documentaries about the people, cultures and tumultuous world he encounters. He explored war-torn Afghanistan after 9/11. Carrier documented the hazards immigrants faced in desert crossings from Sonora,Mexico, which won the 2006 George Foster Peabody Award, that was featured as part of a special produced by Barrett Golding and HearingVoices.com.
But one of his most known and often played pieces is Running After Antelope that puts to test an anthropological theory and gives us a metaphorical look at the idea of obsession and pursuit in one's life. We'll hear that piece in its entirety that first aired on NPR's All Things Considered in 1986. It was story edited by Larry Massett and received an individual grant from the National Endowment for the Arts.
This piece had production assistance by Darby Burn Strong.
Featured music is by Ragon Linde from his CD Both Sides Of The Story.
You can hear Stage & Studio on: