Cheryl Strayed: On Writing, Family & Success
Tune into Stage & Studio for an in-depth and intimate talk with author Cheryl Strayed. The last year and a half has been a whirlwind of success for Strayed with "Wild" hitting #1 on the NY Times Bestseller list, an Oprah Book Club selection and a film option. But her writing success has been a long time in the making. In this interview with Dmae Roberts, Cheryl Strayed tells us about her road to fame, writing with brutal honesty and her love of family. 
(Photo credit above: Joni Kabana)
Strayed's first book was a novel called "Torch," an unflinching literary look at a family in grief after the mother dies from cancer. That book was based largely on Strayed's own family experiences.  With "Wild: From Lost to Found on the Pacific Crest Trail," Strayed ventured head on into a memoir about her experiences dealing with grief and her own demons as she forced herself to walk more than a thousand miles. The brutal honesty touched readers around the world and Strayed's been on the road for more than a year with readings, appearances for "Wild" as well as her newest book "Tiny Beautiful Things,"  a collection from her "Dear Sugar" advice column.
Podcast: Play in new window | Download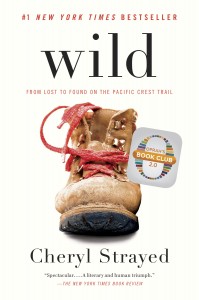 MORE ABOUT WILD: At 22, Cheryl Strayed thought she had lost everything. In the wake of her mother's death, her family scattered and her own marriage was soon destroyed. Four years later, with nothing more to lose, she made the most impulsive decision of her life. With no experience or training, driven only by blind will, she would hike more than 1,000 miles of the Pacific Crest Trail, from the Mojave Desert through California and Oregon to Washington — and she would do it alone.
Cheryl Strayed is the author of #1 New York Times bestseller WILD, the New York Times bestseller TINY BEAUTIFUL THINGS, and the novel TORCH. WILD was chosen by Oprah Winfrey as her first selection for Oprah's Book Club 2.0 and optioned for film by Reese Witherspoon's production company, Pacific Standard. Strayed has written the "Dear Sugar" column on TheRumpus.net since March 2010. Her writing has appeared in THE BEST AMERICAN ESSAYS, the New York Times Magazine, the Washington Post Magazine, Vogue, Allure, The Missouri Review, Creative Nonfiction, The Sun and elsewhere. Her books have been translated into twenty-six languages around the world. She holds an MFA in fiction writing from Syracuse University and a bachelor's degree from the University of Minnesota. She lives in Portland, Oregon with her husband and their two children.
You can hear Stage & Studio at:
Watch her trailer about "Wild" here…