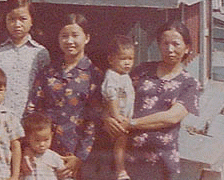 Dmae Roberts and MediaRites present Refugee Dreams Revisited as part of Crossing East Archive Project. This special is hosted by Margaret Cho and focuses on the experiences of Southeast Asian refugees in Portland, and features Cambodian musician Daran Kravanh. MediaRites is building an online archive of 300 hours pan-Asian American/Pacific Islander oral history recordings recorded from the Crossing East radio series.  
MediaRites is featuring a Refugee Dreams Revisited youth project that will transform the interviews into a staged reading theatre piece with panel interviews from the original refugee elders who participated in this documentary. 
The refugees who came to America were Vietnamese, Cambodian, Laotian and the ethnic minorities from Laos—the Mien and Hmong.  Most had fought on the same side and helped the US military in the war in Vietnam.  The Mien and Hmong— the rural people in Laos—were particularly vulnerable for helping the CIA with covert operations.  Staying in Laos was not an option.
Podcast: Play in new window | Download
By 1979, there were almost 62,000 Vietnamese in refugee camps.  More than 140-thousand people displaced from Cambodia and Laos joined them. Oregon and Washington State had the fifth largest population of South East Asian refugees in the country.  The Portland School district was one of the first to figure out how work with South East Asian youth coming to their schools.  The 1.5 generation—those who came to this country at a young age—learned quickly, mastering language and writing skills before their first generation parents.  Now they own businesses and are community leaders in Portland.
This half-hour documentary is an excerpt  from the Peabody-award-winning Crossing East series hosted by Margaret Cho. The eight-hour series was broadcast on more than 230 stations across the country. To hear the complete one-hour documentary on refugees or to purchase downloads and CDs of the entire Crossing East series, visit the MediaRites Store.
Acknowledgements:
The Van Lang Vietnamese School in Portland, Quy and Tien Nguyen, Ly Chheng Tang, Long San Tzeo, Farm Yoon Lee, Lee Po Cha, Khanthaly Thammavong, Sokhum Tauch, Kilong Ung, Kim Nguyen, Daran Kravanh.
Produced by Dmae Roberts with interviews by Anne Morrin and Associate Producer Sara Casswell Kolbet, Editor: Catherine Stifter, Engineer: Clark Salisbury.
Made possible by the Corporation for Public Broadcasting, the National Endowment for the Arts, the Regional Arts and Culture Council, Oregon Arts Commission, Collins Foundation, Templeton Foudnation and the Autzen Foundation.
Visit CrossingEast.org for more information on the series.
You can hear Stage & Studio  at KBOO.FM or on 90.7FM live at 11am Tuesdays.
Or you can subscribe to the podcast on iTunes so you don't have to miss a show.
And always browse our archive of shows at the official Stage and Studio website.
See the YouTube video of Refugee Dreams Revisited.