Julie Wu – The Third Son
What immediately drew me to Julie Wu's debut novel The Third Son were the similarities of her setting and time to my mom's story and history.
Set in Taiwan during World War II, the novel opens in 1943. Â An eight-year-old boy named Saburo, lives in fear of his abusive family one moment and is running for his life under gunfire from American planes strafing the Japanese occupied island the next.
My mom experienced similar war stories, famine, domestic violence and the destruction of the countryside during the war. No wonder I felt compelled to read Wu's book.
(Hear the interview with Julie Wu about her debut novel The Third Son.)
Podcast: Play in new window | Download
I have never read a literary novel set in Taiwan by a Taiwanese-American author before. Though fictionalized, Wu based the two sympathetic characters of Saburo and Yoshiko on her parents. The first half of the novel dramatizes their coming of age during WWII and their reunion and marriage in post-war Taiwan.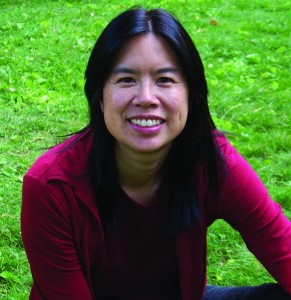 Saburo meets the love of his life, Yoshiko, in the same moment he's dodging gunfire from airplanes.  Years later they marry and create a life together in Taiwan and then in the U.S.  The Third Son doesn't tell an easy love story or history, though.
Through Saburo's eyes, Wu describes how he witnessed the Chinese Nationalist Party (later to be called the Kuomingtang or KMT) arriving in Taiwan after being handed control by the U.S. government at the close of World War II. The Taiwanese at first welcomed the soldiers and Chiang Kai-shek. But the people soon realized the Nationalists occupation would become an oppressive military dictatorship.
My mom would speak quietly, as did other Taiwanese of her generation, about Chiang Kai-shek killing "lots of people" with machine guns. It was only in reading more recent accounts of the February 28,1947 massacre (also known as the 228 massacre) in Taiwan that I learned that more than 10,000 to 30,000 people might have died at the hands of the Nationalist government.
In Wu's novel, young Saburo describes his father's reaction of the concealment of an open rebellion by the Taiwanese and the subsequent massacre by the Nationalist occupiers:
"Reform," my father said, folding his arms, "means that Chiang Kai-shek wants the United States to send him more money. It means he is trying to make the world forget about the many thousands of people he has killed since February twenty-eight and all the American dollars he wasted when he failed to beat the Communists."
The "reform" following the massacre was only a show put on for U.S. allies and from 1949-1987 the government instituted a period of martial law and internal repression called the "White Terror" in which 3000-4000 people were executed and up to 140,000 were imprisoned.
I lived in Taiwan in 1978 and remember my friends speaking in hushed tones of "Green Island"—the place where political prisoners were sent. It wasn't until 1995 on the anniversary of the 228 Massacre that Taiwan's President Lee Teng-hui publicly acknowledged the killings that preceded the White Terror period.
During the second half of the novel, the location changes. Following  Saburo's journey to America before the 1965 Immigration and Nationality Act that allowed family reunification, Saburo travels to America with only a two-year technical degree. He struggles amid poverty and near starvation while working part-time jobs to earn a Ph.D. and a career as a rocket scientist. After years of hardship and near-death in Taiwan, Yoshiko and their young son are finally allowed to join Saburo in the U.S.
Author Wu says her father actually got his Ph.D. faster than Saburo but his degree was in electrical engineering and he had nothing to do with the Space Race.  But Wu drew parallels with Saburo's quest for the American Dream and America's race to the moon.
Wu's personal story is also one of perseverance and struggle. It took Wu 11 years to write and get her debut novel published. Even before that she changed paths first from becoming an opera singer to getting a graduate degree in medicine. It was during this time that she discovered love of writing fiction.
Wu says the genesis for The Third Son began with an image of a sad young boy sitting on the floor in a house in Taiwan. That's when she started asking her parents questions about their family history and about Taiwan, a country she had never visited. After graduation and her medical residency, she earnestly began to write her first novel, while starting a family of her own.
With The Third Son, Wu has successfully mixed family-based stories and Taiwan's rarely told history with poignant and gripping fiction. Ultimately Wu's novel is the epic journey of many immigrants and children of immigrants. Towards the close of her book Saburo, Yoshiko and their young son still experience hardship even when reunited. While on a family canoe outing, Wu sums up the bittersweet American immigrant experience:
"One cannot truly start anew. Our little canoe was full with the memories of those who had died and those we had left behind… They were, together with the sights and sounds, the smells and tastes, the joy and the bitterness of our lives in Taiwan, grown into the very core of our nervous systems.  They formed the reference points of all that we were now and all that we would ever experience. We felt their loss every day. But I still pushed my paddle through the New World water, sparkling and cold, and somehow we went along.
To find out more about The Third Son, visit JulieWuAuthor.com. 
This essay was  originally published in The Asian Reporter. Read more Dmae Roberts' columns at AsianReporter.com.