White Bird Dance + NWCTS
New season openings abound in September. Dmae talks international and national dance with White Bird's Walter Jaffe and Paul King and then she checks in with Sarah Jane Hardy artistic director of  NW Children's Theatre's 'James and the Giant Peach' adapted from Roald Dahl's novel. (Encores 11am Sat (9/21) on KZME 107.1FM)
Now in it's 16th season, White Bird Dance continues to bring famed companies from around the globe to Portland. In 2013-2014, dancers from Australia, Taiwan and France as well as esteemed U.S. ensembles. The new season kicks off with the return of Aspen Santa Fe Ballet, on Wednesday, September 25, 2013 at the Arlene Schnitzer Concert Hall.
Featured music on Stage & Studio today is 3 Leg Torso from their CD "Animals & Cannibals" available at 3LegTorso.com.
Podcast: Play in new window | Download
_________________________________
Highlights of the Fall Season: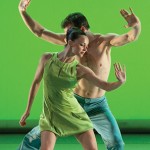 Aspen Santa Fe Ballet (Colorado/New Mexico), September 25th, 7:30 PM White Bird Dance Series – Arlene Schnitzer Concert Hall.
Aspen Santa Fe Ballet kicks off White Bird's 16th season with a program featuring the distinctive voices of established and emerging choreographers such as Jiri Kylian, Cayetano Soto, and the amazingly talented Norbert de la Cruz.
More info at:Â aspensantafeballet.com
Compagnie Maguy Marin (France), Salves – US PREMIERE,October 10-12th, 7:30 PM White Bird Dance Series – Newmark Theatre.
Maguy Marin, one of the most important and provocative choreographers working in Europe, has created a roller-coaster of work that leads the audience through a journey of darkness and light, of mystery and suspense—and outrageous humor.Marin's highly theatrical work conjures up Rod Serling's famous introduction to The Twilight Zone.
See her work at: Â www.compagnie-maguy-marin.fr
Lucy Guerin Inc. (Australia), Weather, October 17-19th, 8:00 PM Uncaged @ Lincoln Hall, Portland State University
Lucy Guerin, Australian choreographer, develops her movement-based work by experimenting with voice, video, sound and even industrial design. Her most recent work Weather looks at our complex relationship with the elemental forces of the environment.
More at:Â lucyguerin.com
Union Tanguera is an ensemble of extraordinary dancers and musicians who weave together sensuality and human emotion through the dance and music of pure Argentinean tango.performs
Union Tanguera (France) Thurs through Sat, November 21-23 2013, 7:30pm Sunday Matinee, Nov. 24, 2pm at the Newmark Theatre. (see photo upper left)
More info:Â www.uniontanguera.com
To reserve tickets or find more info visit: whitebird.org 
_____________________________________________________________
And in the second part of the show, Northwest children's Theatre's artistic director Sarah Jane Hardy tells us about the new season and its opening show. 
 James and the Giant Peach, ( Sept 28 – Oct 27, 2013 ) a "fantasy adventure for children" by master storyteller Roald Dahl, was originally published in 1961. Dahl's first-ever novel for children, the book enjoyed wild popularity and was made into a animated film by Disney in 1996.
This fall, NWCT will open our 2013-14 Season of Plays with a theatrical adaptation which, dramatized by playwright Richard R. George with direct input from the author, retains the original story's richness of character. Co-directed by NWCT Artistic Director Sarah Jane Hardy, the play brings insect-protagonists to life through a combination of mask and puppetry designed by Co-Director John Ellingson (whose designs for last year's The BFG earned him a 2013 Drammy Award for Outstanding Puppetry).
More info:Â nwcts.org
_______________________________________________________________
You can hear Stage & Studio on: