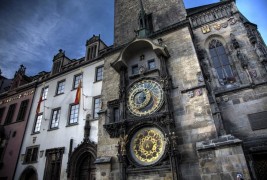 For 19 years, Portland Revels has brought a festive blend of folklore, music, dance and cultural traditions all year long to culminate in the spectacle production of Christmas Revels (Dec. 6-15). Join Dmae for a talk and live concert with executive director Debby Garman, Vagabond Opera's Eric Stern and director Bruce Hostetler. We'll hear tales and accordion music. And in the latter part of the show we'll hear how Oregon Shakespeare Festival is Broadway Bound with All The Way directed by Bill Rauch. (Encores 11am Sat 12/7 on KZME 107.1FM)
In this lively interview and music performance, hear Eric Stern sing and perform on the accordion in a Romony Gypsy song. We'll also hear about the giant clock that inspired the setting of this Slavic Christmas telling of the Revels.
Bruce Hostetler directs this year's show. Music direction is by Robert Lockwood and script by Gray Eubank. This production include a 65-member chorus and music from the Portland Brass Quintet with guests Eric Stern of The Vagabond Opera as Mayor and Ithica Tell as the Empress, and Burl Ross as the clockmaker's assistant.
Podcast: Play in new window | Download
More about the Christmas Revels production: 
Each year, the production moves to different parts of the world and this time the setting is Winter Solstice party in Old Europe that is unveiling a huge astronomical market clock. The empress, played by Ithica Tell (right photo) and all the villagers celebrate together as they trade songs and dances from Central and Southeastern Europe. 
Tickets are$18-39 and available at www.portlandrevels.org and box office at 503-200-1604.
Show dates and times are:
Friday December 6 – 7:30pm
Saturday December 7 – 1pm matinee and 7:30pm
Sunday December 8 – 1pm matinee  – and 7 pm **ASL interpreted
Thursday December 12 –  7:30pm **ASL Interpreted
Friday December 13 –  7:30pm
Saturday December 14 – 1pm matinee and 7:30pm
Sunday December 15 – 1pm matinee and 5pm
All performances take place at the  historic Scottish Rite Center Theater, 1512 SW Morrison, Portland,OR 97205 (at SW 15th and Morrison) in downtown Portland, Oregon.
___________________________________________________
OSF commissioned All The Way, written by Pulitzer Prize-winning playwright Robert Schenkkan and directed by Rauch. The play focuses on Lyndon Baines Johnson's history-making first presidential term and it ran during  2012 season as part of the Festival's 10-year commissioning cycle, American Revolutions: the United States History Cycle.  
Ticket sales for the Broadway premiere  will begin on Saturday, December 14 at 12:01am. Tickets will be available at www.Ticketmaster.com or by calling Ticketmaster.com at (800) 745-3000.
____________________________________________________
You can hear Stage & Studio on: