Lisa See's China Dolls
Dmae Roberts talks with acclaimed author Lisa See whose new book, China Dolls, features the era of the Asian American nightclubs during the 1930s to 50s. Her previous books, Snow Flower and the Secret Fan, Shanghai Girls and Dreams of Joy focused mainly on characters living in China and some who have emigrated. In China Dolls she focuses on three friends American born Asian Americans girls who come from different backgrounds and ethnicities.  As always, See's books covers a long period of time while revealing historic moments in time with vivid and complex memorable characters. 
Podcast: Play in new window | Download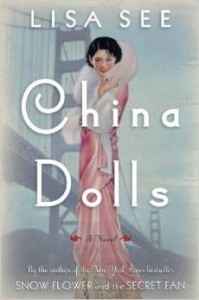 Book Synopsis: In 1938, Ruby, Helen and Grace, three girls from very different backgrounds, find themselves competing at the same audition for showgirl roles at San Francisco's exclusive "Oriental" nightclub, the Forbidden City. Grace, an American-born Chinese girl has fled the Midwest and an abusive father. Helen is from a Chinese family who have deep roots in San Francisco's Chinatown. And, as both her friends know, Ruby is Japanese passing as Chinese. At times their differences are pronounced, but the girls grow to depend on one another in order to fulfill their individual dreams. Then, everything changes in a heartbeat with the Japanese attack on Pearl Harbor. Suddenly the government is sending innocent Japanese to internment camps under suspicion, and Ruby is one of them. But which of her friends betrayed her.
ABOUT THE AUTHOR: (featured top left) LISA SEE is the author of six previous novels, including the critically acclaimed New York Times bestsellersDreams of Joy, Shanghai Girls, Peony in Love, Snow Flower and the Secret Fan, Flower Net (which was nominated for an Edgar Award), The Interior, and Dragon Bones. She is also the author of the widely acclaimed memoir On Gold Mountain. She lives in Los Angeles.

Read a chapter of her book! http://www.lisasee.com/chinadolls/
You can hear Stage & Studio at:.