PHAME Turns 30 + Three Sisters Nixtamal
Dmae Roberts talks with PHAME executive director Stephen Marc Beaudoin and artistic director Jessica Dart about the  30th anniversary of the organization. Both are gifted artists who have worked to built PHAME into one of the premiere nonprofit community arts groups in Portland.
We'll hear how PHAME has created arts training and activities for adults with developmental and physical disabilities and their families for the last 30 years.
(Encores 11am 6/21 on Sat on KZME 107.1Fm)
Podcast: Play in new window | Download

PHAME EVENTS include:Â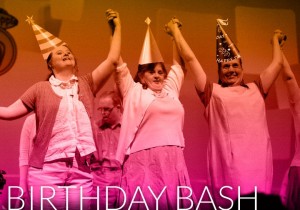 PHAME @ 30 Birthday Bash
Thursday, June 26th at 7:00pm at the Castaway, 1900 NW 18th Ave. Portland, OR

The PHAME @ 30 Birthday Bash showcases the full spectrum of our PHAME student artists and performers. From a runway costume fashion show to special music performances, film and video elements and tasty food and drink, this night will be a performance birthday bash for the ages .
Tickets on sale now!  More info: Jack at jmacnichol@phamepdx.org or 503-764-9718 x4.
On Sunday August 24th
​7:00pm, Portland Center Stage, Ellyn Bye Studio
128 NW 11th Ave., Portland, OR

The PHAME and Friends Variety Show is a version of their popular annual cabaret night, with plenty of music and shtick for days. This is end-of-summer show has collaborative performances from a big range of PHAME students, staff and special guests. Tickets on sale now! 
More info: Jack at jmacnichol@phamepdx.org or 503-764-9718 x4.

And in the last part of of the Stage & Studio, Â we're starting a summer series of original audio art stories from the recent graduates of Mt. Hood Community College's Integrated Media program.


Our first feature story comes from producer Kaylene Beaujolais of Elemental Radio. She brings us Three Sisters Nixtamal, a local company that has turned the making of corn tortillas into a traditional cultural art form and is bringing back ancient ways of preparing corn, from seed to table. She tells about a Mexican-American company that takes an anthropological approach to healthy artisan food.  
You can hear Stage & Studio at:.