JAW 2014
Dmae Roberts has a behind-the-scenes and on-location talk with Rose Riordan, associate artistic director of Portland Center Stage and director of JAW: A Playwright's Festival 2014. We'll hear how she started off this 16-year old festival with "a bag of bagels" to grow into a huge weekend of four plays and a multitude of events. Not only do we get the inside scoop on what makes this year's playwrights unique but we get insight into the collaborative process at JAW. Plus Riordan tells us how a desire for voyeurism and invisibility can lead to a life in the theatre! Sort of.
MORE ABOUT THE EVENTS:

JAW: A Playwright's Festival 2014 - July 25 & 26, 4 p.m. & 8 p.m. on the Main Stage.  Performances are free and open to the public on the Main Stage of the Gerding Theater at the Armory, 128 NW Eleventh AvenuePortland, Oregon 97209.  No reservations are required. contact the box office at 503-445-3700.
More at:Â http://www.pcs.org/jaw/
Podcast: Play in new window | Download
Music by David Ornette Cherry at DavidOrnetteCherry.com.
Keys of the Kingdom
By Penny Penniston
Friday, July 25 at 4 p.m.

As assistant to the celebrity pastor of an evangelical mega church, Arthur obeys orders, attacks paperwork, and guards against sin.  Arthur is surprised when the church pastor commissions a mural from Irene Hoff, an atheist New York artist married to another woman. Arthur is even more surprised when the pastor explains that he believes Irene has been chosen by God. But the biggest surprise of all is what happens when Irene shows up and starts to paint. 

Penny Penniston is the author of now then again, Spin, 7 Years at the Mayfair Mall, Miss Julie (an adaptation), and The Roaring Girl (co-adapted with Jeremy Wechsler). Her work has been produced/developed in Chicago with Theater Wit, Bailiwick Repertory, Shakespeare's Motley Crew, Collaboration, Stage Left Theatre and Lookingglass Theatre. Also, Gorilla Rep (NY), the Depot Theater (NY), the Blank Theater (CA), The Old Globe (CA), Milwaukee Repertory Theater (WI), plus numerous others. Awards include multiple Joseph Jefferson citations for excellence and the Sloan Prize at the 2005 Tribeca Film Festival.  


DB
By Tommy Smith
Story by Teddy Bergman and Tommy Smith
Friday, July 25 at 8 p.m.
 
Thanksgiving weekend 1971. A man calling himself D.B. Cooper boards a plane in Portland, hijacks it for $200,000 at the SeaTac Airport, then parachutes into a snowstorm over Mount Rainier, never to be seen again. db brings to life this electric story, showing how the enduring myth of Cooper has created a canvas for regular Americans to act out fantasies of heroism, celebrity, revenge, retribution and rage.
 
Tommy Smith's plays, including White Hot, Zero, Firemen, PTSD, Pigeon, The Wife, Sextet, Caravan Man (music and lyrics by Gabriel Kahane), Demon Dreams, A Day In Dig Nation, and Air Conditioning, have been produced at Ensemble Studio Theatre, P.S. 122, Williamstown Theatre Festival, Here Arts Center, The Flea Theater, Access Gallery (NYC), Echo Theater Company (LA), Washington Ensemble Theatre, The Eugene O'Neill Playwrights Conference, The Public Theatre, La Mama, The Warhol Museum, MCA Chicago, ICA Boston, On The Boards and PICA: TBA. He lives in New York City and Los Angeles.

The Royal Society of Antartica
By Mat Smart
Saturday, July 26 at 4 p.m.
 
Dee is the only person ever born at McMurdo Station in Antarctica. Shortly after giving birth, Dee's mother mysteriously disappeared. Now, 24 years later, Dee returns to the otherworldly brightness at the bottom of the earth to work as a janitor – scrubbing toilets 60 hours a week and discovering something about what it means to
 
Mat Smart is the recipient of the 2014 New Voices Award from the William Inge Center for the Arts. Plays include:Naperville (Slant Theatre Project, Fall 2014), Tinker to Evers to Chance (Geva), The Steadfast (Slant, published by Dramatic Play Service), Samuel J. and K. (Williamstown Theatre Festival, Steppenwolf, Passage Theatre), The Hopper Collection (Magic Theatre, Huntington Theatre Company) and The 13th of Paris (City Theatre, Seattle Public Theatre, LiveWire). He lives in Manhattan.

A Life
By Adam Bock
Saturday, July 26 at 8 p.m.
 
Nate Martin is a simple man, living his simple life in a simple world. Sort of. Well, I guess, not 
really, actually.
 
Adam Bock's plays include The Colby Sisters of Pittsburgh, Pennsylvania (Tricycle Theater, London), Phaedra (Rose Riordan – director, Shotgun Players, 8 BATCC nominations), A Small Fire (Playwrights Horizons, Drama Desk nomination for Best Play), the book for We Have Always Lived in the Castle, with music by Todd Almond (Yale Rep), The Receptionist (MTC, 2008 Outer Critics nomination, Best Plays of 2007-2008, The Evidence Room with Megan Mullally), The Drunken City (Playwrights Horizons, 2008 Outer Critics nomination), The Thugs (Soho Rep, 2007 OBIE Award for Playwriting, JAW: A Playwrights Festival 2005). He is a 2012 Guggenheim Fellow, a NEA grantee, a Guernsey Award-winner, a three-time resident at Yaddo, a former member of the Soho Rep Writer/Director Lab, and a TDF Open Doors mentor. Adam's plays are published by Samuel French, Dramatists Play Service and Playscripts, Inc.
 
JAW performances are free and open to the public. No reservations required. 
 
JAW 2014: Community Artist Labs

 
Artists from across the nation will be on hand July 25-26 to conduct labs for our local community.
Admission is FREE, but attendance for each lab is limited and determined by random lottery. To enter the lottery, please email education@pcs.org and indicate which lab/s you would like to participate in. You are welcome to submit for multiple labs.  
Deadline for entry is July 18. Â Participants will be notified by July 21.
 
COMMUNITY ARTIST LABS
 
Reading Plays to Become a Better Playwright 
With Raphael Martin – JAW Dramaturg & Director of New Work at Soho Rep
July 25, 12 p.m. to 3 p.m.
 
Reading a play is a skill. The more you do it the more your play reading muscle will develop. In this workshop we will begin by studying new plays and contemporary classics from the repertoire that put words on the page in surprising, unique and theatrical ways. We will read extracts and talk about how a reader envisions the world the writer has created for the first time. What part do stage directions play in the creation of this world? We will think like stage designers and audience members. The workshop will conclude with some writing exercises aimed at opening up our writer brains to maximum theatricality.
 
Reality to Fiction: Transforming real events into engaging theater
With Tommy Smith – JAW Playwright
July 26, 12 p.m. to 3 p.m.
 
You're in love with a moment of history, but how do you turn this into a compelling play? This workshop will teach the fundamentals of converting "true stories" into impactful works for the stage, covering everything from gaining rights, scouring the public domain, and selecting the best dramatic approach for any story. Participants should come prepared with a subject, and will leave with the outline for a play. (Mr. Smith's previous historical works include Sextet, Pigeon, Demon Dreams, The Tale and JAW's workshop of db.)
 
All You Need Is Yourself: Neutral mask and stage presence for actors
With Teddy Bergman – JAW Director & professional NYC-based Actor
July 26, 12 p.m. to 3 p.m.
 
Physical patterns, tics, and tensions make us unique but can also limit us onstage.  Using Neutral Mask and physical awareness exercises, this workshop will help to identify what idiosyncrasies we each bring to table and see the ways they help and hinder us. We'll also go further and work on ways to use your full imagination to create entire worlds on onstage with nothing but yourself. You'll leave with a greater self-awareness and hopefully energized by the power of what you're capable of bring to life alone onstage.
 
PRESS PLAY SCHEDULE: JULY 25-26, 3-8 P.M.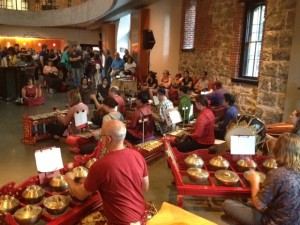 Friday, July 25, 2014
3:15 p.m. & 3:45 p.m. | Various Locations
            Hook Line & Sinker by Push Leg
3:30 p.m. | Main Lobby
            Ecdysiast: A Pole Dance Company

JAW Staged Reading: Keys to the Kingdom, 4:00 p.m., Main Stage 

7:00 p.m. & 7:30 p.m. |Â Ellyn Bye Studio Lobby
            They Come in Threes by Cast Iron Carousel Marionette Troupe
7:10 p.m. & 7:40 p.m. | Vera Katz Sliver Park 
            CONFLUENCE by Tracy Cameron Francis
7:15 p.m. & 7:55 p.m. | Armory Café
              Wisdom Arts Academy

JAW Staged Reading:Â db, 8:00 p.m., Main Stage
 
Saturday, July 26, 2014
3:00 p.m. & 3:30 p.m. |Â Ellyn Bye Studio Lobby
            They Come in Threes by Cast Iron Carousel Marionette Troupe

3:10 p.m. & 3:40 p.m. |Â Vera Katz Silver Park
            CONFLUENCE by Tracy Cameron Francis

JAW Staged Reading:Â The Royal Society of Antarctica, 4:00 p.m., Main Stage
7:15 p.m. & 7:45 p.m. |Â Various Locations
            Hook Line & Sinker by Push Leg
7:30 p.m. |Â Main Lobby
            Ecdysiast: A Pole Dance Company
JAW Staged Reading:Â A Life, 8:00 p.m., Main Stage

  You can hear Stage & Studio at:.