Moh Alileche – Algerian Berber Music
Dmae Roberts presents a special feature on Moh Alileche, master of Algerian Berber music. Berbers are an indigenous ethnicity of Northern Africa. The culture dates back more than 5000 years.  Alileche came to the U.S. in 1990  shortly before the civil war in Algeria started. Now he performs Berber music while educating people about his former homeland and his culture. He performed live, and we also hear tracks from his latest CD. 
Podcast: Play in new window | Download
More about Moh Alileche: Born and raised in the Mountains of the Kabylia region of Algeria,  Alileche taught himself to play traditional Amazigh (Berber) music when he was 9 years old and later became known as a musician in Algeria. He plays the North African 10-silk-stringed mandol or "agember" in Tamazight language.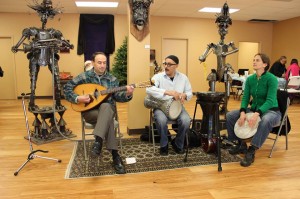 Since after his move to the USA in 1990, he began playing professionally, Alileche has performed at San Diego State International Festival; UC Berkeley International Spring Festival, and San Francisco World Music Festival. After the release of the first CD, Tragedy in 2000, several Northern California radio stations have interviewed Moh, including KPFA 94.1 in Berkeley and KALW 91.7 in San Francisco. In 2001, some of his music was incorporated in a movie documentary entitled "The Visionary". His 3rd. Cd "North Africa's Destiny?" was selected best 2005 world music album/ category "Africa", by the Indie Acoustic Project (IAP).
In 2009 he released his 4th CD In Memory of a Hero. His latest CD, When the Dust Settles, came out in 2013.
More info at http://flagoffreedom.com
This special feature is part of a year-long series on immigrant and refugee artists called Migrations with funding from the Regional Arts and Culture Council. http://racc.org/
You can hear Stage & Studio on: